While shopping at CVS and Target recently, I picked up some drug store goodies! I thought I'd share the new items I picked up and do a quick review.  While I haven't had a lot of time to test out each of these products in-depth, I have used each of them. I'm going to warn you now that this is a lengthy post!  Sorry, but I wanted to give a quick detail about each product I purchased. Take a look!
Top Left to Right: 
Various lip colors (more details below)
elf Shadow Palette,  elf gloss stick, elf shadow stick
Maybelline Mega Plush Mascara
Revlon 24 Hour Foundation
elf Eye Primer
L'OREAL Colour Riche #444 Tropical Coral
Revlon ColorStay Ultimate Suede #070 Preview
L'OREAL Colour Caresse Riche #171 Pink Cashmere
Maybelline Color Whisper #75 Rose of Attraction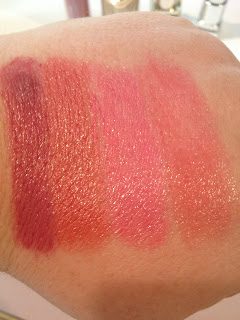 Same color order as listed above
I have way to many lip colors already, but who can resist a pretty new lip color?  I tested each of these out and I definitely liked a couple of these more so than the others.
*
L'OREAL Tropical Coral
is such a great color!  At first I didn't know if I would like this color, but I really do!  I love the L'OREAL Color Riche lip formulas.  It's moisturizing and very pigmented.  It's very long wearing and a great value for the money. (I do hate the smell of this lipstick)
*
Revlon ColorStay Ultimate Suede
(shade preview) is probably my least favorite out of them all.  I loved this color, but it dried my lips terribly.  The color didn't last that long and I had to reapply a lot.  It's too bad because the color was great. (I did love the packaging)
*
L'OREAL Pink Cashmere
is a very bright pink shade.  This is a very non-sticky, not heavy lipstick.  It has a very shiny look, but it is fabulous for the spring/Summer! It is very light and I did have to reapply quite often. Now the best thing about this product is the fabulous packaging! It seemed very high end to me and I love them for that! 
*
Maybelline Color Whisper
 (Rose of Attraction) is my favorite of the bunch!  It's very pigmented, very moisturizing and it lasts! It's very creamy and I my lips feel like I'm wearing a chap stick and not a lipstick.  I like that there is a lot of colors to choose from in this line and I will definitely be picking some more of these up!
e.l.f. Palette
-This palette was only $3.00 at Target and for the money, it wasn't that bad!  In the picture above, the colors swatched are used on the elf eye primer.  There was quite a bit of fallout from this product, but it isn't bad for $3.00.  I have used way worse!!  I didn't see a lot of difference between the colors, but it's a nice, simple nude palette and you can work up a great smokey eye look with no troubles with this.  
Eyelid Primer
– I purchased this in the shade Sheer and it cost me $1.00!  I've heard the beauty world compare this to
Urban Decay's Primer Potion
and if that's true then I just saved you a ton of money.  I have to be honest and admit I don't love UD Primer Potion, but I do use it from time to time.  The e.l.f. primer seemed to work pretty good for $1.00.  I'm going to keep using it and testing it out, but I've used it twice now and it did great on my oily eyelids.  
Rock Out Jumbo Eyeshadow Stick
– This is SO SO SO GREAT!  I mean $2 for this is total craziness.  If you are a fan of Jumbo Eyeshadow sticks, you will really like this.  I normally use them for bases for other eyeshadow colors, but I do wear them alone from time to time.  This color is so gorgeous and richly pigmented.  I believe e.l.f. has 10 different shades to choose from with this product and I will for sure be purchasing some more very soon!
Pink Umbrella Jumbo Lip Gloss Stick
– Available in 8 shades, I  chose a lighter shade.  First things first, I HATE the smell of this product, but it does seem to disappear after a while.  It feels like a very light balm on your lips and it's pretty moisturizing.  It's supposed to be a lip gloss, but it doesn't feel sticky like one at all.  This was $2 and I'd probably repurchase some other colors to try out.  I have heard that some of the shades that have more glitter shade to them are very drying, so be aware of that before purchasing.  
I will do a totally separate review on this product because I want to go more into detail.  So far I'm really liking this foundation!  I picked it up at CVS and they had a great deal going on, so that influenced my purchase.  I believe
I spent $15.00 on Revlon products and I got $7 CVS Reward Bucks back.  Stay tuned for my more in depth review!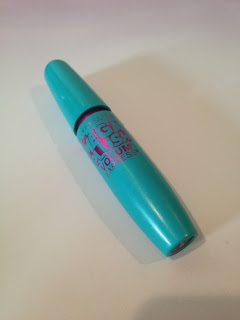 My last and final product of this blog post (whew, that was a lot of products) is the Maybelline Mega Plus Volume Express Mascara.  I will also be posting a separate review on this mascara, but I've used it a couple of times and so far so good.  The wand is very flexible in movement and the brush head is huge!  It really allows me to get in there and build up my lashes.  
That was a huge haul!  I calculated my total spending on all of this (after coupons and reward money back) and it was only $47.00! Not too bad! That's 10 products! I also picked up a bottle of my
Skin MD Lotion
, which I swear by for dry skin.  Be on the look out for some more in-depth reviews of some of the products listed above.  I'll do some more swatching and continue to test out their performance!  Have you picked up any drug store products lately? Please, do share!!