I have a serious love affair going on with Dr. Dennis Gross products it seems.  I can't get enough of the Alpha Beta Peel Pads, the  Age Erase Moisturizer is proving to be another great product (review coming soon) and now I seemed to have instantly fallen in love with the Dr. Dennis Gross Alpha Beta Smoothing Body Towel.  I had a sample of this product from when I purchased my Alpha Beta Peel Pads, but I never got around to using it.  One day recently, while cleaning out my office, I found the box of Body Towels and the rest is history. Love at first use!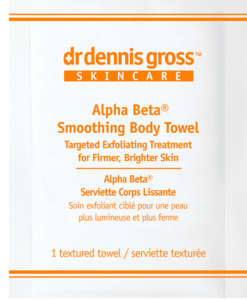 The Dr. Dennis Gross Alpha Beta Body Towel is a daily treatment for the body. It comes in a convenient "towel" type cloth. They are easy to travel with as they are in easy to open packets. You use these exactly like you do the peel pads for the face. Start in circular movements until the "towel" seems to feel dry. That's it and no rinsing needed!
This product contains Glycolic and Mandelic Acid to exfoliate, firm and tone the skin. It treats chest and back breakouts with Salicylic and Azelaic Aminio Acids and helps heal Keratosis Pilaris (chicken skin) with AHA's and Witch Hazel. These aren't just a one trick product. They can work in many different ways for a variety of different issues.  In fact, I quickly realized that they were amazing at getting rid of and softening my dry skin on my heels. I now consider this my go-to product when I need to get my feet in tip top shape very quickly.
This product retails for $36.00 and comes with 8 applications. I know that the price point is a little bit high for being a daily treatment, but given the list of amazing ingredients and the fact that the towel actually works, it's worth the money.  I just stretch my treatments out a little bit more than suggested. I don't use mine every day, but I do use them at least once a week or more. The product is sold at a variety of stores like Sephora, Nordstrom and online on Dr. Dennis Gross website.
So my love affair continues with Dr. Dennis Gross.  His product line has been a consistent wow and I rarely say that.  I feel that the products are fantastic quality and they deliver great results. I couldn't be happier. With all of this products I've bragged about now, have you tried any? Do you plan to?
For more information about the Alpha Beta Body Towel, please click link here.