I have possibly found the absolute BEST Foundation for covering redness on the face! Believe me when I say I have used about every product out there.  While some products cover the problem areas, none of them do it without a concealer and a finishing powder.  Even then, I can still sometimes see a little bit of redness.  Well, I no longer have to wear layers of foundation or concealer.  Thanks to Clinique's Redness Solutions Makeup (w/ SPF 15 and Probiotic Technology) I can apply a very small amount of this foundation to cover my entire face and have all my redness covered instantly!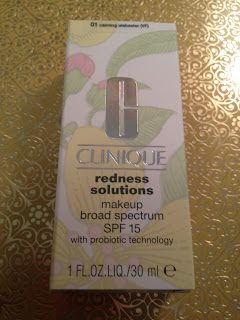 Shade: Calming Alabaster
This oil-free foundation is very light, but trust me, it can cover redness!  It leaves my skin looking flawless and it lasts all day. It features an SPF 15 and a probiotic treatment that will help strengthen the skin.  I like the packaging,  but Clinique's website states that there will be new packaging soon for this product.  Can't wait to see what changed!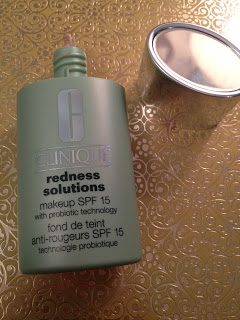 Add caption
I use this foundation, a tiny bit of concealer for under my eyes and finish with a very small light dusting of my MAC Studio Fix Powder and I'm set for the day.  I apply this foundation with my hands.  I have tried using a brush with it and while it works ok, I prefer my hands.
Clinique does make additional products in this line, but I haven't picked those up yet.  I just got the foundation a couple days ago and I've been playing with it to test out the coverage.  I will for sure be picking up some of the other items, especially the powder.
Formula Liquid
Coverage Moderate
Soothing oil-free makeup instantly colour-corrects flushing, blushing. Calming ingredients help minimize flare-ups. Beneficial probiotic technology helps strengthen skin's barrier. Keeps environmental triggers at bay with SPF plus antioxidants.
New packaging is being phased in for this product. Your shipped product might look slightly different than the one shown on this site.
Is this Foundation right for you? Take our quick Foundation Finder to meet your perfect match.
Skin Types: 1 – Very Dry to Dry, 2 – Dry Combination, 3 – Combination Oily
(Information courtesy of Clinique)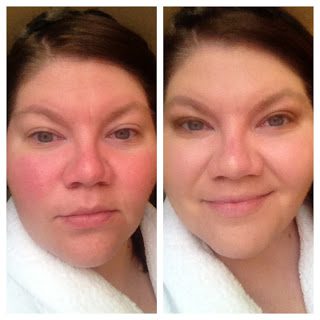 My before (left) and after (right)
This is without any concealer and only one squeeze of product.  
This foundation retails for $28.00 and can be purchased directly from Clinique or at any retailer that carries Clinique products.  I purchased mine at Dillards.  I'm loving this product so much.  I have struggled to find a product that isn't heavy, but still covers any areas of concern.  Clinique blew me away and I can't wait to try out more products from this line.
*For a video explaining more about redness from Clinique's Guiding Dermatologist, click here
*To learn more about the Clinique line for redness, click the link: Clinique's Redness Solutions Products