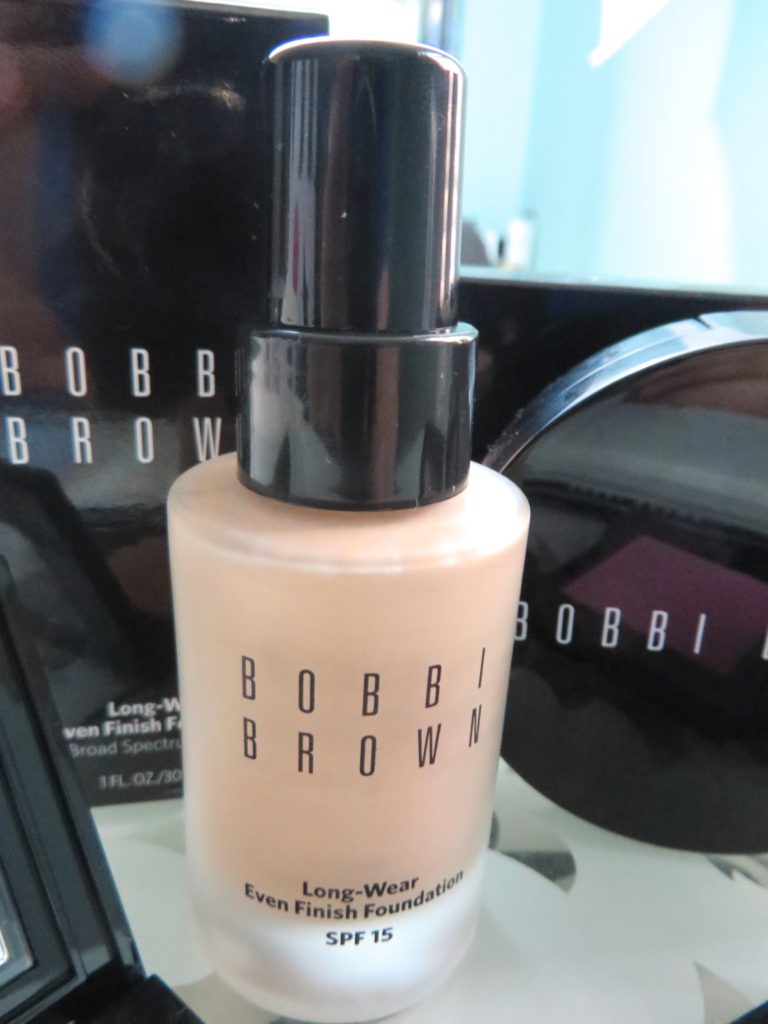 If you follow me on Instagram (If not, you totally should!) you probably noticed several pictures of Bobbi Brown products that I picked up recently at a Nordstrom Event. I also posted my haul, right here on the blog. Since then, I've been using them and seeing what I like and don't like about each product.  Today I thought that I would talk about the Bobbi Brown Long-Wear Even Finish Foundation.  I'll be honest and admit that I wasn't a fan at first, but I've actually changed my opinion! That's why it pays to really try a product for quite a while before you really form an opinion about it! That's a blogger tip for ya!!
The foundation retails for $48.00 for a 1oz. bottle.  The color range on this product is fantastic as there are 20 shades to choose from. It contains SPF 15 which is always nice if you are needing some sun protection, but be careful if you are wearing this in pictures as flash and SPF sometimes doesn't give the best results in pictures.  This is an oil-free foundation (gel base) with more of a medium to full coverage finish, but it doesn't feel heavy at all on the skin.   Not only does it contain an SPF, but it also contains Antioxidant Vitamins C and E,  Glycerin and Shea Butter to keep the skin protected and moisturized.  The claim to this foundation is a 12 hour lasting finish, even in humid conditions and that it stays color-true.

The pictures above were taken very quickly recently while I was trying to get ready for the day.  Excuse the crazy hair in the first couple of pictures and no that's not gray hair you are seeing. That's dry shampoo! Ha! But you can see that I have some redness and uneven areas on my face and after the first application, they were still noticeable, but not horrible.  I applied another half a pump and got a good amount of coverage and left it at that. I could have kept building up the coverage, but I didn't really need a full coverage look that day.  Plus, I was happy with the end result.
[line]
Her are some PROS and CONS of this foundation.
PROS:
Great color selection available (I'm Sand 2)
It doesn't feel heavy on the skin and applies great
I love the coverage it offers and that I can build it up to be full coverage if needed
SPF is a great addition (didn't seem to notice any issues with flash using this foundation)
Packaging is really nice. Glass bottle with a pump.
A little bit of this foundation goes a LONG way. I can get by using about a pump and a half.
Gives my skin a really nice natural finish
CONS
It's scented. The scent doesn't bother me, but it does contain Lavender Oil.
I wouldn't say it lasts 12 hours. It lasts a good amount of time on me, but not a full 12 hours.
Price Tag. Yes, it's a normal "high end" price for a foundation, but that doesn't mean I'm happy about it. Ha!
[line]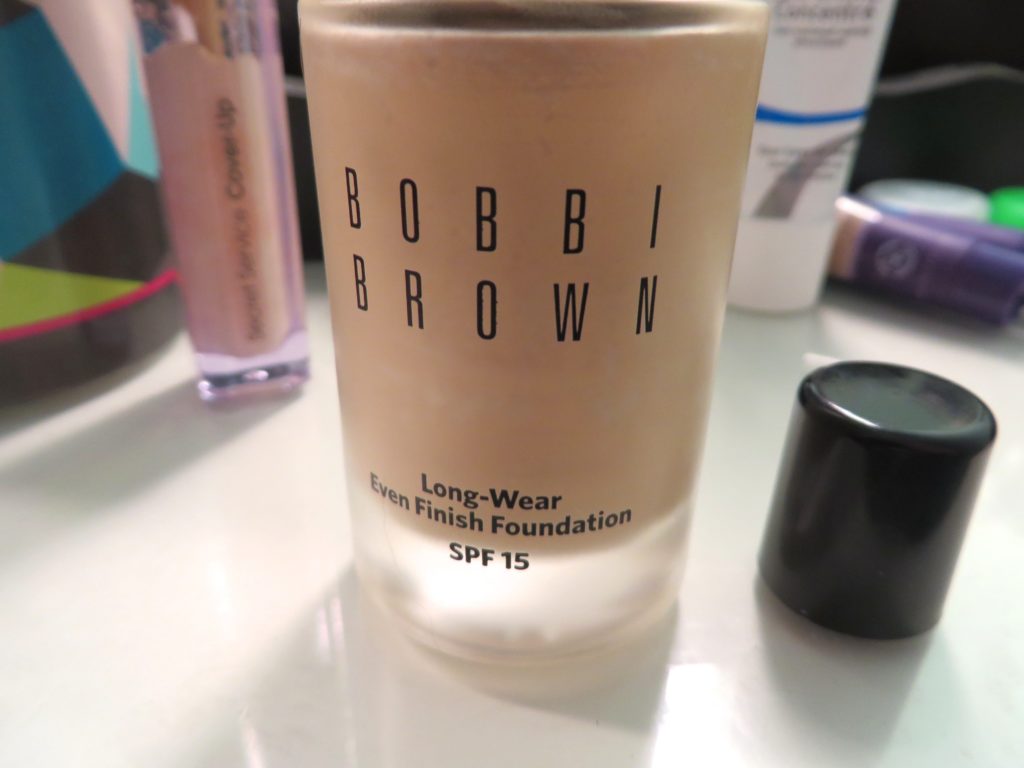 Overall, I think this is a great foundation.  It works nicely with my combination skin as I'm oily in my T-Zone (forehead, nose and chin), but very dry on my cheeks. Coverage is also great with this product! I felt that this was a very medium to full coverage and that it gave my skin a nice matte look, but not cakey or heavy. I also noticed that I didn't need to touch up that often throughout the day with powder.  I still suggest using a primer with this foundation, especially if you are like me and have any issues with enlarged pores or oily skin.  I tried it once without a primer and noticed that it was sinking into my pores later in the day and the coverage wasn't the same.  So make sure you prime first!  The color matches my skin great (Sand 2) and covers up any redness or imperfections I have nicely.  Bobbi Brown has yellow undertones to ALL of her foundations, just an FYI.  As far as the addition of the SPF, I didn't seem to notice any issues at all when snapping some pictures. So if you are photographing with this foundation on, you should be safe, but always test out first. This foundation carries a hefty price tag, but it's nothing unusual for a high end foundation.  I'm going to keep wearing this foundation not only because I love the way it's making my skin look, but because I want to really test it out when the temperature and humidity are high.  So I'll report back on how it held up when I get some warmer, humid weather.
I'll be doing several more Bobbi Brown product reviews, but are there any products that you've used from her line that are ones you would consider Must-Have?!? I'm curious.  I've also got my eye on that Shimmer Brick and I'm going to a meeting at Nordstrom today, so you probably are guessing what will happen and I'm ok with that.
All products mentioned in this post were paid for by Simply Stine. Post contains affiliate links.   All thoughts and opinions are my own.