Sorry I have been MIA lately. I've been dealing with a horrible cold that has left me basically laying in bed all day since last weekend. I am slowly starting to feel better, but man, this cold has been brutal!   So I apologize for being so absent, but work wasn't happening, ha! I promise to get back into the swing of things this week.
Today I've got a Bobbi Brown Haul for you!  I've been to a couple Bobbi Brown events lately and let's just say that I'm a HUGE fan of Bobbi's product line. To me, Bobbi Brown gets what women need as far as beauty. She has such flattering products that allow you to create a classic, feminine look. I feel like she's mastered in teaching us how to get that me, but better look. If you are a fan of the less is more type makeup; you will love Bobbi Brown.
I picked up quite a few items, so let's get right into it!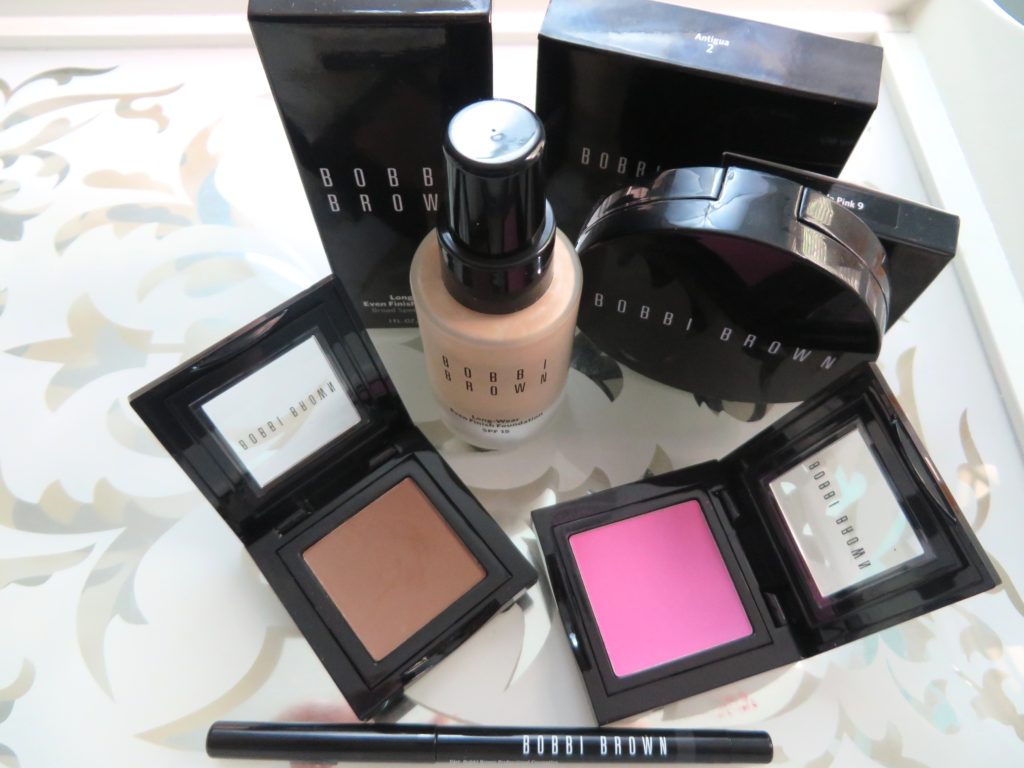 [line]
Long-Wear Even Finish Foundation ($48.00)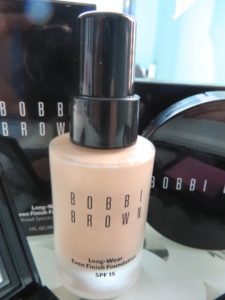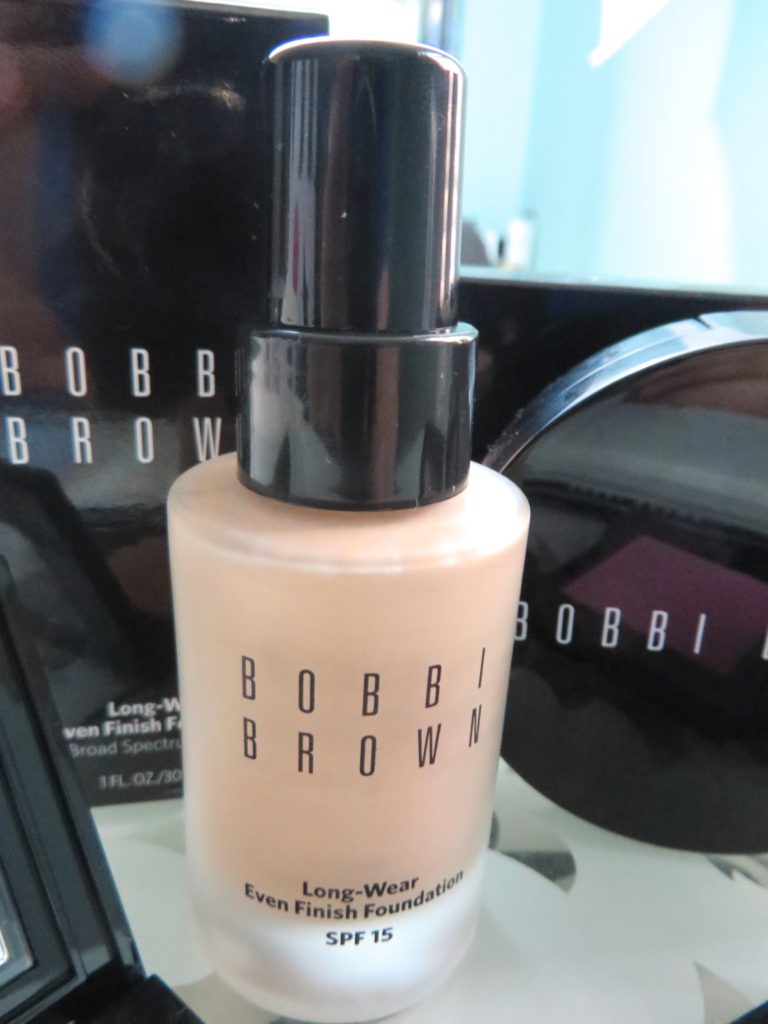 Bobbi Brown foundations all have yellow undertones, which is perfect to help me cancel out some of my redness. I am mostly familiar with the Bobbi Brown stick foundations, but my makeup artist suggested the Long-Wear Even Finish Foundation for my skin type.  I am shade Sand, which is a really good match for my skin tone. It wears nicely, but I haven't used it long enough to form a good opinion about it yet, so stay tuned for that.
Finally – a natural-looking and long-wearing foundation. Comfortable and hydrating, this medium to full coverage oil-free formula. Glycerin and shea butter keep skin feeling moisturized while a gel base creates a lightweight finish that stays color-true. Lasts for up to 12 hours even in the most humid conditions. Protects skin from future damage thanks to broad spectrum SPF 15 with antioxidant vitamins C and E. (Bobbi Brown)
Antigua Bronzer ($38.00)
This bronzer is unlike any other bronzer color I've ever used. Hmm…I am especially fair, but I do have a lot of pink undertones to my complexion. When the makeup artist grabbed this color I was a little bit concerned. I mean, is this the kind of color I should have been using rather than my go-to NARS Laguna? It looked lovely on me and I couldn't have been happier with the results. This was a splurge item for sure, but I really enjoyed the color. I took a couple pictures of this because in certain lighting it really looks different! This isn't a flat matte bronzer either, it features a tiny bit of shimmer, but nothing that I'd complain about. It's a lovely color and a nice change from my normal "tan" bronzer.
This ultra-soft and smooth pressed powder is formulated with a unique and innovative blend of sheer powder and micro pearls. Powder glides on evenly and gives skin a seamless and sheer natural-looking glow. (Bobbi Brown)
Pale Pink Blush ($26.00)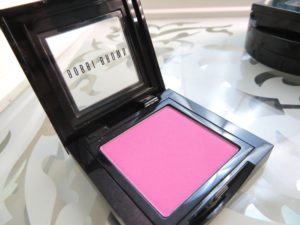 This is a perfect bright, pink blush. At first glance, this blush looks like a very electric looking pink, but once applied, it gives you that perfect flushed look. I never would have reached for this color myself, but I'm so glad that the makeup artist did! Another reason why I love having a professional do your makeup. They sometimes reach for colors that work so perfectly on you, but you never would have tried them yourself! I can't wait to wear this blush!
Silky formula glides on smoothly and offers a matte finish with long-lasting wear. Comes in this sleek, flip-top compact that can be used individually or assembled into palettes (sold separately).
Apply on the apples of cheeks using the Blush Brush, blending up into the hairline, then downwards to soften. Finish with a pop of brighter blush, applied just on the apples of cheeks. (Bobbi Brown)
Perfectly Defined Gel Eyeliner ($24.00)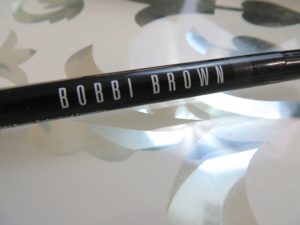 I'm such a huge fan of Bobbi's original Gel Eyeliner. It's one of my HG products for sure. Imagine my surprise when I found out that it now comes in a pencil form!! YES! This eyeliner is sweat-proof, humidity resistant and lasts a good 12 hours, even on me. I have the most sensitive eyes ever and this eyeliner works fabulous and doesn't make me tear up. When the makeup artist used the pencil on me, she chose the shade Steel Grey, which was a lovely color for my blue eyes. I've used this a couple of times since I purchased it and I'm really happy with it. I also love the fact that it's a twist-up pencil with a sharpener!
Bobbi's secret to making eyes stand out is all about definition. This unique gel-based pencil delivers richly pigmented color and precision lining with sweat and humidity-resistant 12-hour wear. The best part? A twist-up design lets you apply on the go, while a built-in sharpener ensures the most precise application every time. (Bobbi Brown)
Eye Shadow Blonde #21 ($22.00)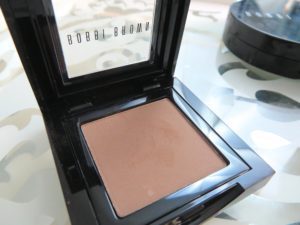 For those of you who don't fill in your brows, it is a game changer! It creates such a perfectly finished makeup look. I think people often forget how much of an impact your eyebrows are. I was in need of a new brow color and the makeup artist used a Bobbi Brown Eye Shadow on me in the shade Blonde and it worked great! Yes, Bobbi does have several products designated to brows, using an eyeshadow is also perfectly fine to use.
This silky, matte powder shadow goes on smoothly & blends easily. The densely pigmented formula can be layered and comes in a range of beautiful shades for defining lids and lining eyes. (You can even use it to define your brows. (Bobbi Brown)
[line]
Thanks to both of the Makeup Artists at the Nordstrom locations that I visited  for being so fabulous! At the Phipps location I saw Kelsea Shull and at the Perimeter location, I saw Sarah West. Both ladies were excellent and extremely helpful. I think if you are looking for a really good, informative makeup "lesson" Bobbi Brown is the way to go. Every time I've been to their counters for makeup, I've gotten a fantastic lesson or I've been taught a new way of using a product. You can never know enough when it comes to makeup. I always love to learn more!
I should point out that I did get a 10% discount the day I visited Nordstrom because of the event, which was a nice surprise. They also included the cutest Bobbi Brown bag as a Gift With Purchase that day. It included a small eye cream (which I love) and an eye makeup remover. Gotta love the little extras! I still have to purchase the shimmer brick and the lip balm that they used on me because both were out of stock the day I visited! Bummer! Stay tuned for more reviews on these products as I use them a little bit more!
Post includes Affiliate Links. All products mentioned were paid for by Simply Stine. All thoughts and opinions are my own.