Are you one of the many women (including myself) who has to deal with skin issues because of your hormones? Hormone levels can sometimes be a pain. They go up and down and as a result, your skin suffers. Using correct products that will help the skin during these times is very important. B.Kamins Nutritive Replacement Cream is such a product. It's made for women who are dealing with hormone fluctuations and I wanted to brag about it for a minute because its a really amazing product!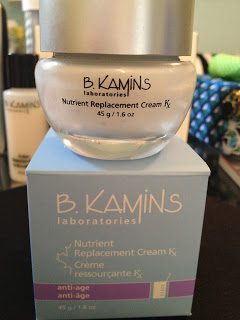 I previously did a review on several B.Kamins products that were sent to me to try and at the time, I promised a separate review on the Nutritive Replacement Cream because it was such an interesting product with lots of benefits and helpful ingredients. This product offers help for anyone who suffers from redness, irritated skin, loss of firmness and wrinkles. One of the most amazing benefits of using this product is that it has the ability to cool and calm the skin, which is perfect for anyone having hot flashes due to hormones.
The Nutritive Replacement Cream features some major advanced skincare technology. Here are three key ingredients in making this product such a great moisturizer:
Episphere Blue:
Heat activated, time released tiny blue capsules of Vitamin E that will help moisturize and repair skin.
Profusion Ceramide:
Small, skin plumping molecules penetrate the skin and fell the inter-cellular spaces that will help diminish the look of wrinkles
Bio-Maple Compound:
This ingredient features purified sap from Canadian Acer Saccharum Maple Trees and features a complex physiological humectant which has mono and polysaccharides, amino peptides, vegetable hormones, anti-oxidant and anti-aging phenolic compounds and minerals.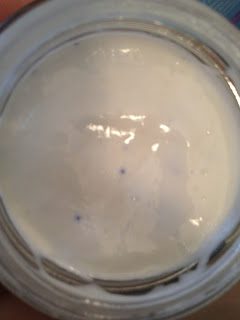 Those tiny blue capsules are pretty powerful! They are time released capsules full of Vitamin E
The Nutritive Replacement Cream acts as a reservoir to improve skin's appearance, provide nutrients and moisturize the skin. This is the product you are looking for to help combat skin changes associated with hormonal fluctuations. It will soothe, cool and help lessen the effects of any hot flashes, etc. Plus, it will provide you with ingredients to hep fight signs of aging and hyper pigmentation, which is very high on my list of must haves. I find that when using this product, my skin seems less irritated, and my skin feels cool, calm and very normal. Me being "normal" is very important because my skin can change so much and I never know what I'm going to be dealing with.
This product can be used morning and night and is to applied after cleansing and toning the skin. You can use this as a moisturizer or under your regular moisturizer. I find that this is a very non-greasy product and doesn't seem to irritate my oily skin at all. It is safe for all skin types, but especially great for anyone dealing with hormonal skin issues. It is available for purchase anywhere B.Kamins is sold or online on their website. Price on this is $134.00.