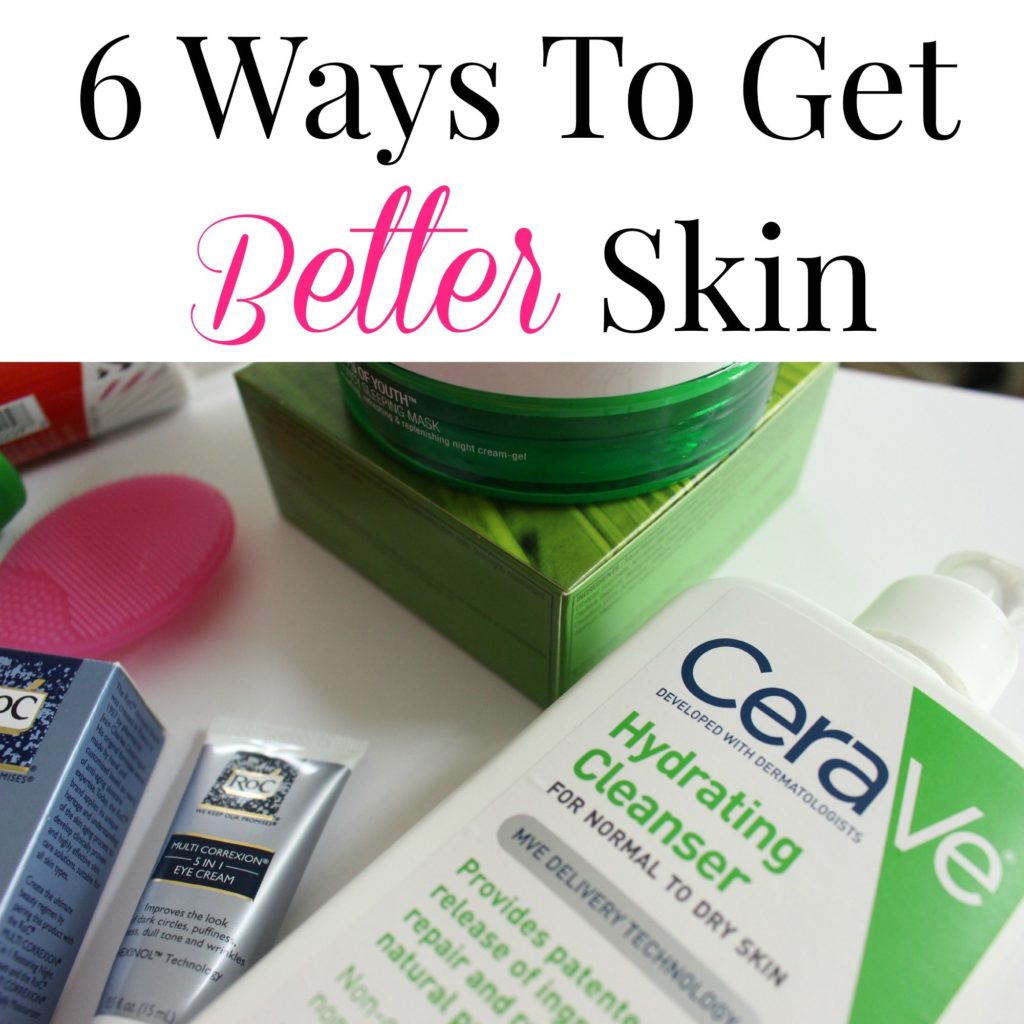 I'm talking about my top 6 Ways To Get Better Skin today.  Some of you know, some of you don't, but I have a background in the Spa Industry and believe me, I learned quickly how important it is to take care of your skin and about the importance of a good skincare routine.  Just a few small adjustments and your skin can be completely transformed! Here's what I'm suggesting!
[line]
1.  Hydrate
It's crazy how much drinking water can benefit your skin, but it's true.  I've recently been up'ing my water game and it's made an incredible difference in my skin.  It seems clearer,  brighter and my redness and pores seem so much less noticeable.  How much water should you be drinking? The Mayo Clinic recommends about 8-9 cups of water for women and about 13 cups for men.  Get to drinking some water!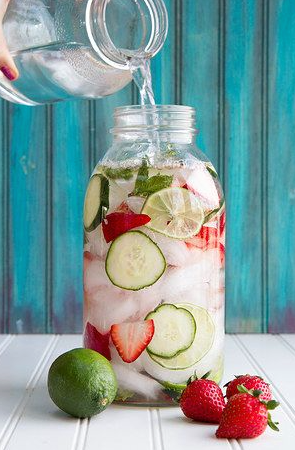 Image/Pinterest
2.  Exfoliate
We need to exfoliate our skin to make sure we are removing all of surface dead skin cells, but not all skin types are the same.  So what should you be using to exfoliate your skin? There are both Chemical or "Acid" Exfoliants help to dissolve the surface dead skin cells.  These include Glycolic Acids, AHA's and BHA's, and also enzymes such as pumpkin, pineapple and papaya.  Secondly, there are physical exfoliants like the cleansing brushes that we use (Think Clarisonic, Foreo, etc), sponges and facial scrubs.  I suggest using a cleansing brush on your skin daily OR if that is too much, at least 1 to 2 times a week.  Also, I would suggest a Glycolic Acid or an AHA Serum at night, under your moisturizer.  If you suffer from acne prone skin, try a BHA instead.  Suffer from Hyper-Pigmentation? Try a Vitamin C Serum with your regular serum!
3. Moisturize
Moisturizers.  There are gels, creams and oils.  What should you use? Well, that depends on your skin type.  Here's what I suggest:
Oily Skin: Lotions and not heavy creams. Think of oil-free moisturizers or serums that will give your skin the moisturizer it needs without the oils that will clog your pores.
Dry Skin: Creams!  The moisturizing creams contain more oil and more moisturizing ingredients that your dry skin will need.
Combination Skin: Think lotions that are for "sensitive" skin types from brands like CeraVe and Aveeno.  These aren't going to contain any irritating ingredients to the skin such as fragrances or dyes.  When skin starts to feel "normal" again, stick with a water-based moisturizer that is going to be non-greasy and light on the skin.
Normal Skin: Like I said above, when you have normal skin, try to use a lightweight water-based moisturizer that is non-greasy and light on the skin.
I also find it important to recommend switching up your moisturizers during the different seasons.  I can't use the same moisturizer I use in the Summer, during the Winter.  Pay attention to your skin and see what your skin is telling you! Need more moisture? Less? If you pay attention, you'll be able to tell what your skin is needing.
4. Retinols
Retinol are a non-prescription version of Retinoids that you can get over the counter.  While prescription strength Retinoids (Retin-A, etc) will give more impressive, faster results, some people don't want to have to have a prescription OR they can't handle how strong a Retin-A type product can be on their skin.  So I suggest a Retinol.  The Retinol that you will use is less active than the prescription version, so expect it to take a little bit longer to see visible results.  Think at least 12 weeks!
5. Sleep
Not getting enough beauty rest? You need to be!  Getting sleep is seriously important for having good skin! I always suggest making sure that you're not doing things to disrupt your sleep. Like not drinking a lot of caffeine at night or pulling an all-nighter on that new Netflix series release.  Is your bedroom a place of comfort? Make your bed(room) a place you love and that you feel the most comfortable in,  light a candle and relax!  Turn off your phone, tv and other gadgets (I know how hard this is to do, but it does work!) and make your bedroom that space to indulge yourself in relaxation! Getting the appropriate amount of sleep is essential for you and your body to work properly.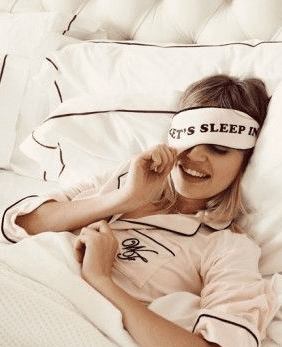 Image/Pinterest 
6. Diet
Antioxidants are important in your diet.  They fight the free radicals that damage your skin! So make sure you are eating enough vegetables, fruits and greens.  Also, eat the good fats and avoid Caffeine! It's incredible how your diet can affect your skin. When I'm bad and eating unhealthy (think vacations, etc) and I'm really over-doing it on certain types of foods (like fried or sweets) I notice more breakouts and irritations.  It's not always just your skincare that makes a difference.  What you put into your body really does matter.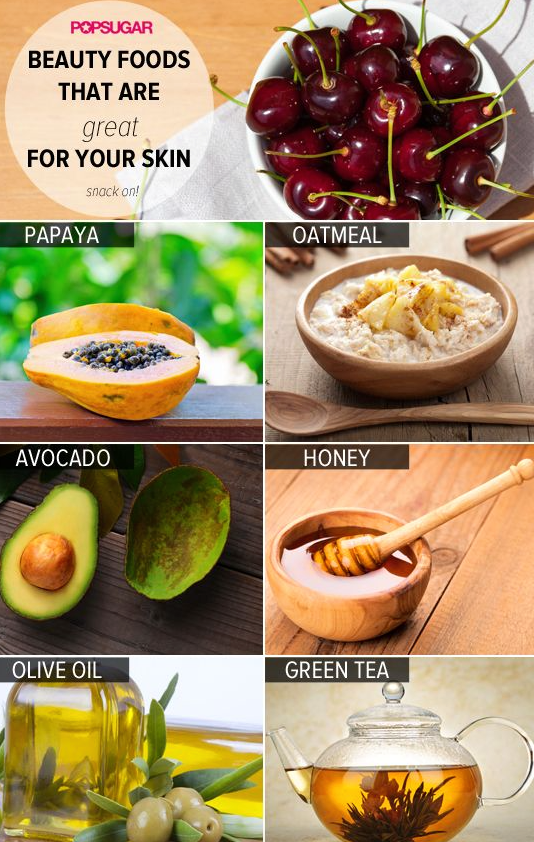 Image/Pinterest
Some other important mentions? Let's not forget about SUNSCREEN! One of the most important parts of your skincare routine, or at least it should be.  Whether it be from your makeup or an actual physical SPF found in a sunscreen, make sure you're applying and re-applying throughout the day.  Nothing ages you more than sun damage! I touched on this briefly above, but including a good serum into your skincare routine is one of the best ways to amp up your skincare routine.  There are numerous serums on the market.  Just do some research or speak to a skincare professional on some recommendations.  Also, a good Facial monthly (or when you can include it) is really important in a good skincare routine.  Not only are they beneficial for your skin, but they are super relaxing!  There are so many different types of Facials available at all sorts of different price points, so see which one would be a good fit for you!
[line]
Those are just a few suggestions for you to achieve a healthier complexion! What's the one part of your skincare routine that you struggle with the most? Or what has been the easiest to include? I'm always curious what is working or not working for everyone.  I'll be sharing my own personal skincare routine and what I struggle with the most when it comes to my skin,  with you guys soon!  Also, don't forget to check out the Giveaway I've got going on right now on Instagram!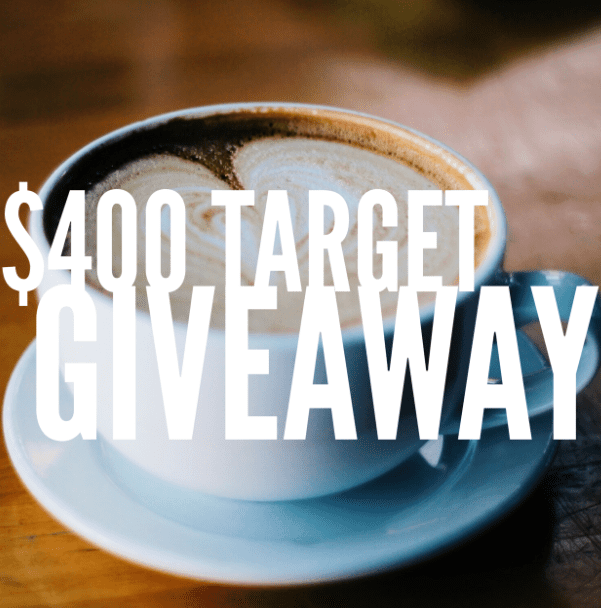 Affiliate Links included.