I didn't finish a ton of books in September, but what I did read was an excellent book that I can't wait for you guys to dig into! Abby Jimenez is one of my auto-purchase authors. I'll read whatever books she throws my way because she never lets me down!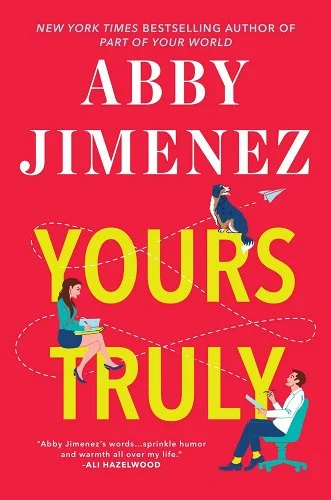 Synopsis:
Dr. Briana Ortiz's life is seriously flatlining. Her divorce is just about finalized, her brother's running out of time to find a kidney donor, and that promotion she wants? Oh, that's probably going to the new man-doctor who's already registering eighty-friggin'-seven on Briana's "pain in my ass" scale. But just when all systems are set to hate, Dr. Jacob Maddox completely flips the game . . . by sending Briana a letter.
And it's a really good letter. Like the kind that proves that Jacob isn't actually Satan. Worse, he might be this fantastically funny and subversively likeable guy who's terrible at first impressions. Because suddenly he and Bri are exchanging letters, sharing lunch dates in her "sob closet," and discussing the merits of freakishly tiny horses. But when Jacob decides to give Briana the best gift imaginable–a kidney for her brother–she wonders just how she can resist this quietly sexy new doctor . . . especially when he calls in a favor she can't refuse.
My Thoughts:
Trigger Warnings: Chronic kidney disease, divorced main character whose ex husband cheated, depression, clinical anxiety, and mention of pregnancy loss and suicide. (From authors note)
Thank you to Forever Publishing for the advanced copy! I screamed when I got the email.
She's done it yet again. Abby Jimenez has made me fall in love with these characters and this story. Whew. This book made me laugh out loud more than once, made me sob at least twice, and I found myself relating to Jacob so much. This book has some deep storylines and she didn't shy away from writing the hard stuff this time.
Jacob and Bri are two doctors who initially do not like each other. Obviously we know what's going to happen and the process of watching these two fall for each other was great. A great surprise? FAKE DATING is involved. We're also given handwritten letters and phone calls that last hours with these two. They're so genuine and real.
Perfection.