I have so many Sephora stores around me and I consider myself VERY lucky for that. In one of the malls that I frequent around Atlanta, there was a Sephora store that was relocating to a different, much larger, space in the mall. I found out that the first 100 people in line the day that the store opened, got a gift card that could be valued up to $100! I did this once before and I scored $25.00 at a different store opening. So I called up my BFF and decided that we obviously had to go.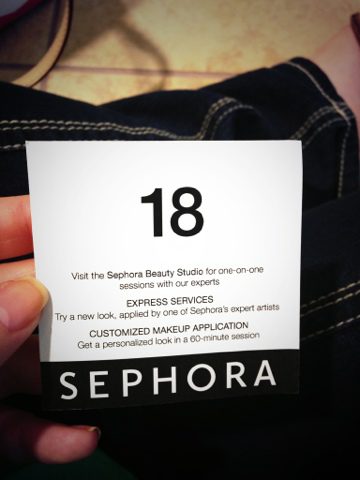 Lucky number 18!
It got me $10.00 Gift Card, I'm not complaining!
The store opened at 10:00, but we left the house around 7:30. That's beauty dedication my friends! We got in line and she was number 17 and I was number 18. They passed out numbers and told us that if we left the line at any time, that we had to give up our spot in line. Hours passed and finally around 9:30, there were 100 people in line. It was so sad watching people run to the line, only to find out they were too late. BUMMER!! In line we had lots of mall walkers looking at all of us funny asking what was going on, we even chatted with the lady in front of us in line because she had an amazing husband who brought her a chair to sit in, breakfast and an iPad! I vote Husband Of The Year Award for him!! We had fun sitting in line and we even got to brainstorm some ideas for her upcoming wedding. Then finally at 10:00….the doors opened!! I got a $10.00 gift card, my friend got $25.00 and that lady with the amazing husband got $100! We were VERY jealous of her in more ways than one that day!!
Let me tell you, this Sephora store is amazing. It's BIG!! You can now enter the store without even having to enter the mall now. They had a DJ for the day and they even had the Pantone Color IQ in the store so we could all get color matched for the perfect foundation shade. They had vendors there doing complimentary makeovers and offering advice on products. It was so busy, it was hard to really be able to look around, but we walked the store, got some samples and even had some lip colors applied. Once we did our foundation match, we got an email with all of our exact shade matches emailed to us.
Image Source: Sephora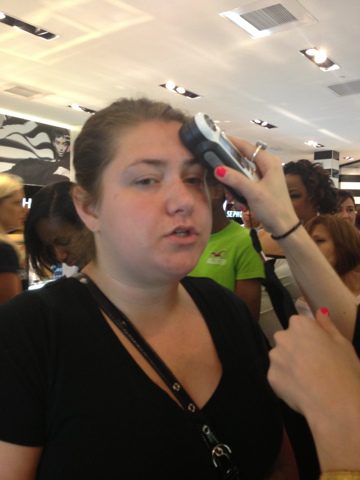 My friend getting color matched…Pantone Color IQ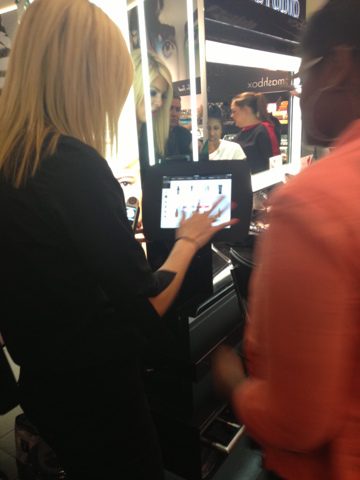 This is how you get your results and you can send yourself an email
with the results. It's a great addition to Sephora Stores.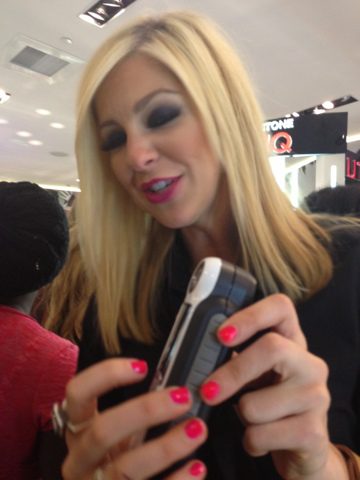 That's the tool that takes pictures of your skin.
How flawless is her makeup!!!
What did I end up taking home? An Hourglass lip color, that sadly has to be returned (I'll explain that in another post), a Clinique bottom lash mascara and my favorite find was the AMAZING NARS Radiant Creamy Concealer. It was a really fun day and I loved how helpful everyone was. Thanks, Sephora for a great event!!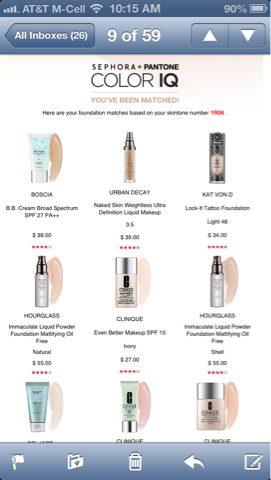 My results that I emailed to myself
Glam Glow
I got a sample of this to try and WOW!! I will be purchasing this for sure. Have you tried this??
To find a Sephora near you, click here
Click the link for more information on the Pantone Color IQ
-Simply Stine