It's no secret that I struggle with having large pores and my skin can be quite sensitive from time to time. That basically limits the type of products I can use. I am always looking for a good exfoliating product and I really try to stay ahead of the aging process, but sometimes the anti-aging products I've used just don't agree with my skin. So I always approach any exfoliating/peel type product with caution.
I recently started using a new to me product line called Radical Skincare.  I have been trying their Age Defying Exfoliating Pads. You already know, if you read my blog, that I have a HUGE love for the Dr. Dennis Gross Alpha Beta Peel Pads, but being that I am a Beauty Blogger AND I love trying new skincare products, I decided to give these pads a try.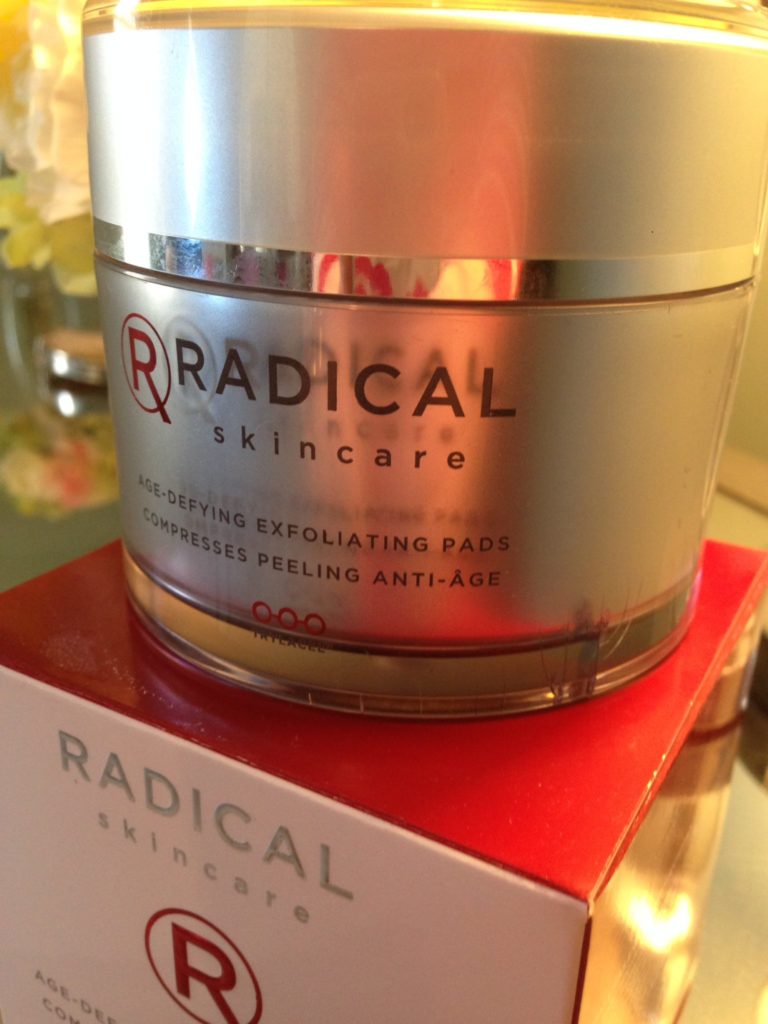 Radical Skincare
Liz and Rachel are the daughters of Dr. Richard F. Edlich MD.PHD, world renowned Professor of Plastic Surgery. Working in their father's lab before the age of ten and at the University of Virginia Burn Unit, they were exposed to the science of skin rejuvenation and wound repair at extreme levels. After having been in the skin care industry in Los Angeles for 15 years and creating over 100 products for celebrities and others, their business became very personal when the unthinkable happened.
Rachel developed Rosacea after having her second child and had red bumps all over her face and was completely inflamed. She was on the 3 types of medication that the doctors said she would be on for life. Liz had turned 46 and realized that gravity was real, noticing wrinkles, loss of elasticity and felt like her skin wasn't snapping back to the way it use to. They both decided that this was the perfect storm and called upon their chemists and scientists and challenged them to create the most powerful anti-aging solution for Liz that could be used on Rachel's sensitive skin. With no regard to costs and with no intention of selling this youth elixir to the larger public, they identified the prime defect in most anti-aging formulas they corrected it, perfected it and then clinically tested it. The results spoke for themselves. A USDA lab compared their formulas to numerous leading skincare brands* and the potency results were unbeatable.
Liz, now 50, and Rachel at age 45 have taken Radical Skincare from 2 stores in the United States, Barneys New York, to over 800 prestige stores in 15 countries in less than 3 years.
True to their commitment to put the money in the bottle and not into advertising or paying for expensive packaging or celebrities, Radical Skincare has grown based on its Radical Results and word of mouth. Having created the strongest skincare that can be used on even the most sensitive skins, Liz & Rachel take their skincare with a message of inspiration and empowerement worldwide to create Radical Results and Nothing Less.
Age-Defying Exfoliating Pads
The Age-Defying Exfoliating Pads have a really impressive list of ingredients! From AHA and BHA, these multi-fruit acid based pads help exfoliate, promote cell turnover, shrink pores, tighten/firm skin and reduces Crow's Feet (within two weeks). Here's a closer look at some of the ingredients that make these pads so special:
The Verdict?
So far, so good! I use these pads after I cleanse my skin nightly. I use them on my face, neck and chest.  At first I notice that they do tingle my skin, but they don't burn or cause any unpleasantness. I've noticed that my skin GLOWS the next morning, my pores seem smaller and my overall skin texture feels much smoother. I find that I can't use these daily, but more like two to three times a week. I don't have any really deep set wrinkles YET, but I hope with continued use with products like this, I won't have too many of them anytime soon!
I like that these are a one step process that is in a convenient, already pre-soaked pad. Products like this, make it easy to make sure you are taking that extra step in your skincare routine.  The price point on these items isn't too horrible! They are $75.00 for 60 pads. That's over two months worth of exfoliating treatment applications, if you only use them once or twice a week like me. They actually offer quite a few other products that I wouldn't mind checking out! I always get really excited when I find a skincare line that not only works, but one that works well with my skin and doesn't cause any irritation.  If you are looking for a good, simple but effective product to add to your night time routine that will help with exfoliation, smoothing your skin and helping with fine lines and wrinkles; I say give these Age-Defying Exfoliating Pads a try!
For more information :
  Radical Skincare can be purchased online on their website, but also at both US and CA Sephora Stores! More information below.
Product was provided to me for consideration by a PR Company. All thoughts and opinions are my own. Contains Affiliate Links.