I have said it before and I'll say it again, Paula's Choice products are FABULOUS!!  I swore by her products before in a past blog post  and now I have another amazing product to add to my list of must have products.  Want to fight sings of aging, reduce discolorations or acne marks, shrink your pore size and help normalize your skin?? Let me introduce you to the new RESIST-Ulta Light Super Antioxidant Concentrate Serum.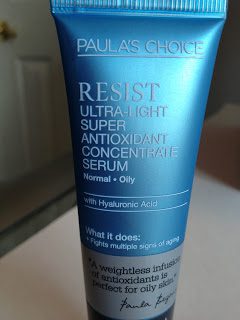 This product is for Normal, Combination, Oily Skin types and it does so much!  Not only does it help with fine lines and wrinkles, but it will also help normalize oily skin types and help with enlarged pores.  It features Hyaluronic Acid, which will protect and nourish the skin and also fight signs of aging. This product is great for anyone who suffers from breakouts, oily skin, sun damage or anyone with fine lines and wrinkles.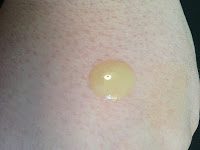 Just a couple drops of this serum is all you need to cover the entire face
This product has really been an amazing addition to my skincare collection.  Paula's Choice has offered a product that really has changed my skin, once again.  My skin is smoother, my pores are smaller and my redness seems to be a lot calmer lately.  I honestly can't say enough good things about it.  The best part of this is that it's super easy to apply (just a few drops morning and night) and the price point on this is unbelievable. This is a super light weight treatment that will amaze you and your skin!  For more information and to purchase this product, click here here!
Check out what Paula's Choice website has listed for this product:
Effective For: Acne Breakouts, Anti-aging, Brown Spots, Wrinkles
Fights multiple signs of aging
Silky, weightless texture is perfect for oily/combination skin
Provides superior, proven antioxidants plus skin-repairing hyaluronic acid
Normalizes oily skin and reduces enlarged pores
Spreads easily and sets to a smooth, shine-free finish
Helps repair skin and reduce inflammation so it can generate healthy collagen
Anti-irritants help calm redness and fade red marks from acne
Can be worn under or over moisturizer, underneath sunscreen
Clinically proven non-irritating
100% fragrance free, no added dyes
No animal testing
View the research and studies showing the benefits of using this serum here
**Not only are Paula's Choice products amazing, they also have a wonderful website that is filled with tons of information.  I highly suggest taking a look at it and seeing what you can learn!  I know I have spent several hours glancing over everything and I learn so much. Take a look for yourself 
here
.