Target Beauty Box
Target's back at it again! They are releasing their second Target Beauty Box. If you aren't familiar with this, let me fill you in! This is a beauty sample box filled with some beauty items that Target wants to share. The cost of the box is $5.00.  If you use your Target RedCard, shipping is free! Here's some pictures and description on what's included this time: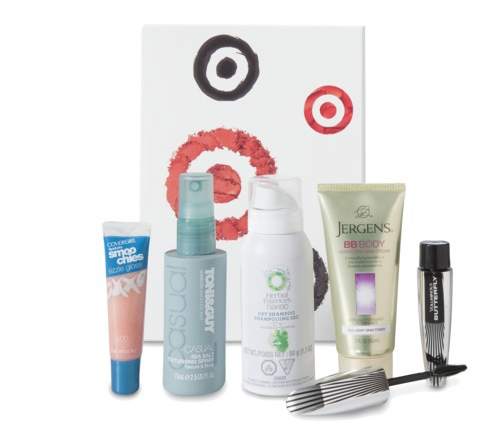 Here's a description of the box from Target:
Hello BEAUTIFUL!
We've rounded up our favorite beauty products (so you stay in-the-know). Try them, tote them, take them with you—we're sure you'll love them as much as we do. Find out more about these products and more like them at Target.com/TheLatest.
Beauty Box Includes:
1) TONI&GUY Casual Sea Salt Texturising Spray (2.5 fl oz): Want beachy hair without hitting the surf? Spray from root to tip for salty, sultry texture and subtle, windswept waves.
2) L'Oreal Voluminous Butterfly Mascara (.22 fl oz): Stretch and lengthen lashes for a fluttery, winged-out look with this unique mascara formula and revolutionary asymmetrical Butterfly Brush.
3) Herbal Essences Naked Dry Shampoo (1.7 oz): Give hair a rejuvenating boost with this paraben and colorant-free formula made with natural tapioca to instantly absorb excess oil with less residue.
4) COVERGIRL Smoochies Sizzle Gloss (.44 fl oz): Pucker up. Sheer color meets sizzling shimmer in a moisturizing formula that's always stunning, never sticky.
5) Jergens BB Cream Light (2 fl oz): Finally, a multi-tasking beauty cream in a quick-drying formula that goes on sheer and delivers visible results in just 5 days.
It's only $5.00 and I haven't tried all of these products yet. I've had my eye on that Jergens BB Cream for a while, so I think I'll order it to even just try that.  I ordered the last one that they had last year and it was pretty decent for only being $5.00! Are you going to give it a try? Let me know!
To purchase your Target Beauty Box, click here: