Every once in a while I like to treat my skin to a little DIY homemade goodness.  Something that doesn't cost a fortune, but works great.  So if you are the type of person who says you don't have enough time or money to make your own skincare mask, you are wrong! This is a simple three ingredient face mask that will leave your skin feeling soooo good!
All you need is Oatmeal, Honey and Water.  So simple!  I make sure my hair is up, because this mask can be a little bit messy.  Make sure you don't wear great clothing either because the oatmeal has a tendency to go all over. Once you are done with that, it's time to mix up the mask.  I use a 1/4 cup of regular oatmeal. I like to NOT use the ones in the packets because sometimes they have added ingredients like sugar, etc.  I then add in two tablespoons of warm, organic honey.  I like to use organic honey because sometimes, like the oatmeal, you don't know what else they have added.  Mix the honey and oatmeal together and add enough water to form a thick paste.  You don't want this mask to be too runny, you want it to be thick enough to spread onto your face and stay there.  That's it!  Let the mask sit on your skin for about 15-30 minutes and rinse off with warm water.
Here's some pictures from my most recent mask making attemps: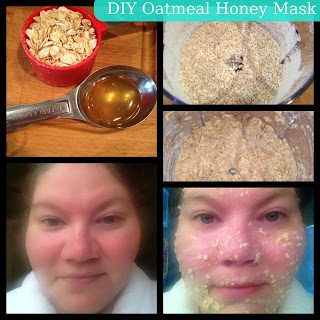 The pictures of my skin are not the greatest quality, but I was taking them myself with oatmeal mask all over my hands
I used my Nina to grind up my oatmeal ( just saying that makes me laugh) and added in the warm honey and water.

This mask is great for so many skin types.  The oatmeal is great for sensitive skin, but it also has cleaning and exfoliating properties, which make it an excellent choice for dry, irritated skin.  It will help absorb surface oil and help in reducing pore sizes.  Be sure to massage this mask into your skin to allow the oatmeal to do a nice, gentle exfoliation on your skin.  Let's not forget about the honey! This ingredient has been used for so long and the benefits are unreal!  Honey will protect your skin, moisturize like crazy, rejuvenate and help heal the skin.  Suffering from acne?  Give this mask a shot!




This mask left the texture of my skin so much smoother.  I noticed a dramatic difference in my enlarged pores on my cheeks and my skin felt remarkably softer.  I have sensitive skin and this seemed to also really calm down any redness I was experiencing on my face.  




Have you tried this mask?  I'd love to hear your thoughts!