Atlanta Beauty Lovers, this post is for you!  The Nordstrom Beauty Trend Show is next weekend at Perimeter Mall. Pay $20 to reserve your spot! Experience a runway show featuring some of Fall's beauty tips and tricks, get a makeover from the beauty experts at the counter and see new products from vendors like Jane Iredale, Dr. Dennis Gross, Whish Beauty, NuFace and many more! Did I mention that you get a FREE Nordstrom Tote Bag?!? Plus, the $20 for the ticket, can go towards any purchase at the event.  For more information, see some of the information Nordstrom has listed on their site, below: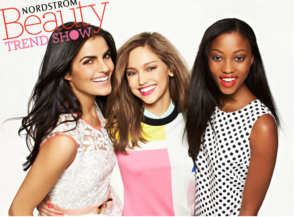 September 21
8:00 AM – 7:00 PM
Grab your girlfriends and reserve your spot for our exciting Beauty Trend Show! You'll see the latest and greatest as our industry insiders reveal fall's beauty trends during a high-energy runway show. Then receive a complimentary beauty consultation full of DIY tips and tricks. Plus score an exclusive (and free!) Nordstrom tote bag—just for attending. Tickets are $20 and redeemable toward your beauty purchase on the day of the event.* To RSVP or for special accommodations, just call or stop by your favorite Cosmetics counter. Can't wait to see you! *Offer valid on event date for purchases of $20 or more in Cosmetics only.

________________________________________________________________________________________________________
Here are some of the vendors that are highlighted on Nordstrom's website:
Dr. Dennis Gross' Katie Keller
September 21 – 10:00 AM – 6:00 PM
Meet Katie Keller, Education & Corporate Sales for Dr. Dennis Gross Skincare. Katie will be on hand to personally address your skin care concerns and recommend an effective regimen. Treat yourself and relax with a complimentary steam facial, leaving your skin hydrated and exfoliated with a warm, healthy glow. Reserve an appointment for a one-on-one consultation with the Advance Skincare counter.
La Mer Discover Your Essentials Event
September 21 – 10:00 AM – 6:00 PM
Visit the La Mer counter to see where miracles begin. Experience transformational products and "The New Miracle" at counter complementary pampering service, designed to enhance La Mer moisturizer penetration and stimulate circulation. Your skin will feel newly revitalized and energized. Reserve an appointment with La Mer.
La Prairie Stress Less – Age Less Event
September 21 – 10:00 AM – 6:00 PM
Join us at the La Prairie cosmetic counter for a personalized de-stressing skincare consultation and experience the latest additions to the Anti-Aging Collection by La Prairie. Experience new fast-acting treatments designed to smooth, perfect and protect skin around the eyes and lips. Instantly erase signs of fatigue and restore radiance. Reserve an appointment with La Prairie.
Perricone MD's Joseph Zarzecki
September 21 – 10:00 AM – 6:00 PM
Meet Joseph Zarzecki, National Education Manager for Perricone MD. Experience Perricone MD's most popular and powerful anti-aging treatment that delivers extraordinary results and can be incorporated into any skin care regime. Space is limited; call to reserve your appointment today.
________________________________________________________________________________________________________
I spoke to Nori, who is the Spa Director at the Perimeter Nordstrom Location.  She was so sweet and helped me schedule my appointments. I'm going to be getting some sample services at the spa and a makeover from YSL! Sounds like an absolutely perfect day to me!
For more information and to purchase your tickets (Do this ASAP to ensure you can get your appointments before they run out) contact the Spa at Perimeter Nordstrom or visit any of the cosmetic counters for more information. You can also use the link below to request your appointments online.
Nordstrom
4390 Ashford Dunwoody Road NE
Atlanta, GA 30346
770.394.114
September 21
8:00 AM – 7:00 PM
770-350-4802 (Spa's Number)
Here is a video from Nordstrom's Spring Beauty Trend Show! Looks amazing!!!
I hope to see you there!!