Coloring your hair is a big investment. BIG! So imagine the disappointment when you start to notice that your color is fading and it just doesn't seem to have that same super glossy look as it did when you first get it colored. One of the biggest problems is that we are using haircare products (shampoos, etc.) that contain Sulfates! You think you're using a good product line, but if they contain sulfates, they are actually stripping the color from your hair every single time you use them! BUMMER!  What if I told you that I've been using a new product that can actually help your color last 2x as long! Even better, what if it was as simple as adding a Pre-Wash Primer to your hair care routine?!? Yep. I've tried it and I've got good news!!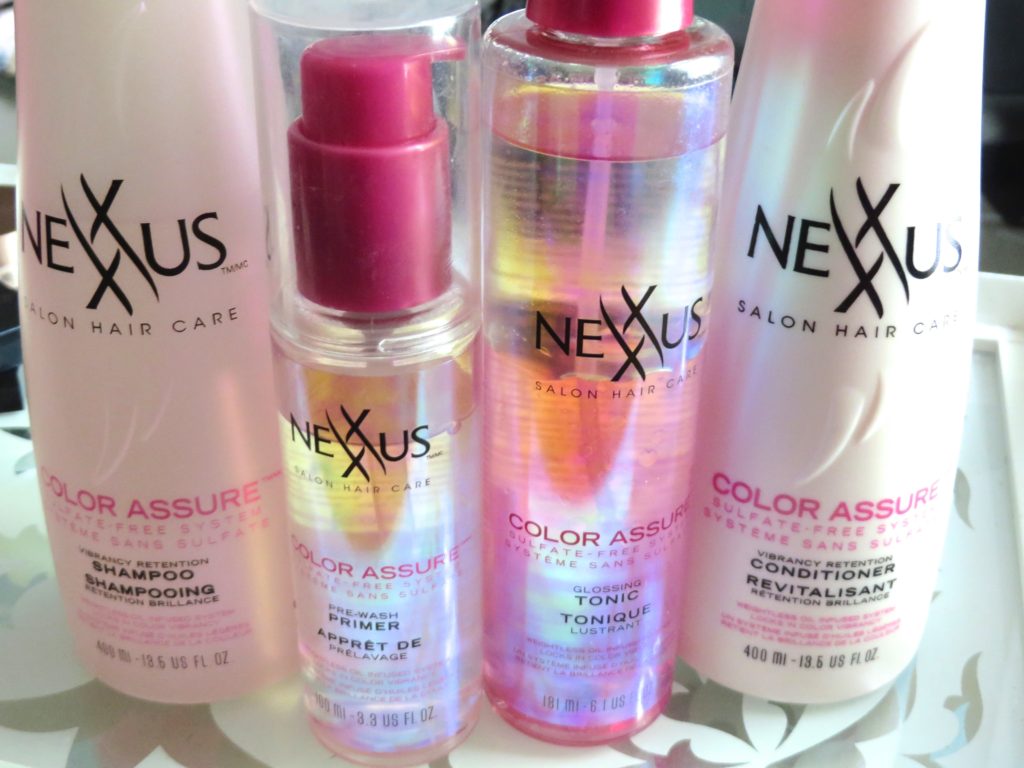 I partnered with Conde Nast and Nexxus to try their Color Assure Pre-Wash Primer and some of the other products from the line and I have been really impressed.  My hair is super soft, shiny and my color is actually lasting longer. I'll be honest and admit I was pretty skeptical before I started using the product line because so many other products claim to do the same thing and they never do.  My hair still fades as quickly and I'm left with more hair products that I wasted money on.  The Nexxus Color Assure product line has really made a difference in my hair.  I've noticed that my color isn't fading as quickly and my overall condition of my hair seems to be so much healthier.
[line]
The NEW Nexxus Color Assure System is the first oil-infused color care system by Nexxus, and it provides 2X longer color protection* Look for the Nexxus Color Assure Pre-Wash Primer, Color Assure Vibrancy Retention Shampoo, Color Assure Vibrancy Retention Conditioner and Color Assure Glossing Tonic in mass retailers, select drugstores and supermarkets nationwide.
ABOUT NEXXUS COLOR ASSURE PRE-WASH PRIMER:
The NEW Nexxus Color Assure Pre-Wash Primer is a pre-treatment to shield hair in the shower. It helps to repel water*, so color stays longer and more vibrant. The Pre-Wash Primer is sulfate-free and infused with a blend of clear oils, including almond, coconut and argan oil.
-Almond oil is known to lock in moisture, nourish hair and reduce breakage
-Coconut oil is known to provide softness and elasticity
-Argan oil is known to improve shine and vibrancy
-White Orchid Extract is known to provide moisture and works to seal and protect hair by repelling water** and keep it    from entering the core
[line]
So let's talk about this product line, especially the Pre-Wash Primer because I think that's the superstar of the product line.  There is a Pre-Wash Primer, Shampoo, Conditioner and a Glossing Tonic.  The prices vary by product, but no more than $15 per item.  They are Sulfate-Free and contain Clear Oils (Almond, Coconut and Argan) and White Orchid Extract.
The Nexxus Pre-Wash Primer is a totally different type of product than I have ever used before. I think this product works great!  When I'm in the shower I'll take about 3-5 pumps (I have super short hair) onto my hand and work it on my ends first (that is key) and then work my way up to the roots of my hair. You don't want your hands to feel greasy, but they should feel soft.  If you are noticing that they are feeling slick or greasy, then you've probably used too much of the product.  After you've used the primer, just go ahead and shampoo your hair like normal.  The Primer helps repel the water from the hair and it's also made with a blend of clear oils that will help soften your hair, reduce breakage and improve shine.
The shampoo lathers up nicely, even without having sulfates. I'll admit that most of the time when I use a Shampoo; I have to immediately use a Conditioner on my hair because it feels like straw after I shampoo it.  That doesn't happen with this line. There are actually days that I go without using the conditioner because using the Pre-Wash Primer and Shampoo makes my hair soft enough!  I think I'm using the Conditioner about every other shampoo. The Conditioner isn't one that is super heavy either. So if you are worried about using this product line with fine hair, I think that you'll be ok!  After I'm done washing my hair I spray the Glossing Tonic on my hair.  This is a really fine-mist that makes my hair seem really luminous and it also contains the Exotic White Orchid Extract,  so it smells good and it's protecting your hair and your color!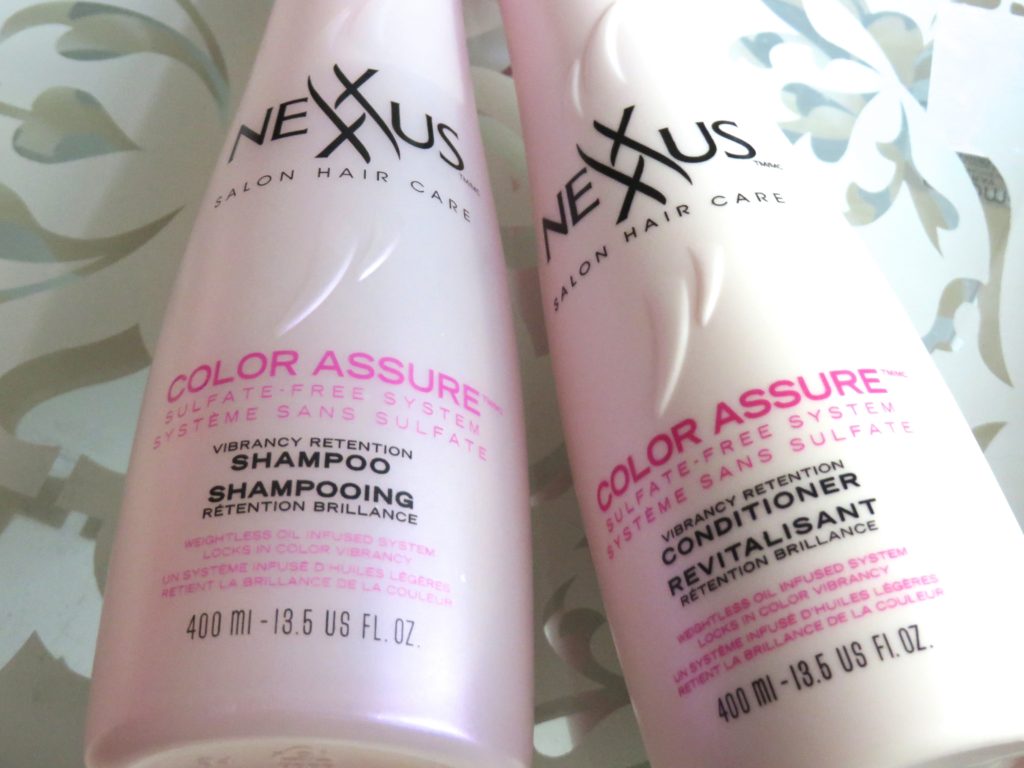 This product line has exceeded my expectations. My color has lasted a lot longer than usual and my hair is so soft and shiny.  I normally start to notice my roots around 3-4 weeks and this time I went 6 weeks without getting a touch up on my color.  I've gotten compliments on how healthy my hair and scalp have been (even from my stylist) and the fact that it's saving me money by not having to color as often, is amazing!
A lot of peole will ask if I feel like you can use certain products from the line, but not all of them.  I honestly feel that this product line is a system that works great when used together.  I don't always feel that way, but it works by priming your hair, moisturizing it and protecting it to lock in that color and shine.  So yes, I'd actually recommend using the entire product line for best results.  I think this is a fabulous product line to start using if you are coloring your hair.  Especially with the warmer temperatures and sunny days that are happening!  I know I always make sure I protect my hair even when I go to the pool! I  think I'll keep the Pre-Wash Primer in my Beach Bag, that way I'm always making sure my hair is protected in the sun and in the water!
Nexxus products can be purchased at several stores like CVS, Walgreens, Target, Ulta and even local grocery stores. Check the sales to get the best deals!  Let me know if you've tried this product line and what your thoughts have been! Are there any other Nexxus products you have tried and really liked? Let me know!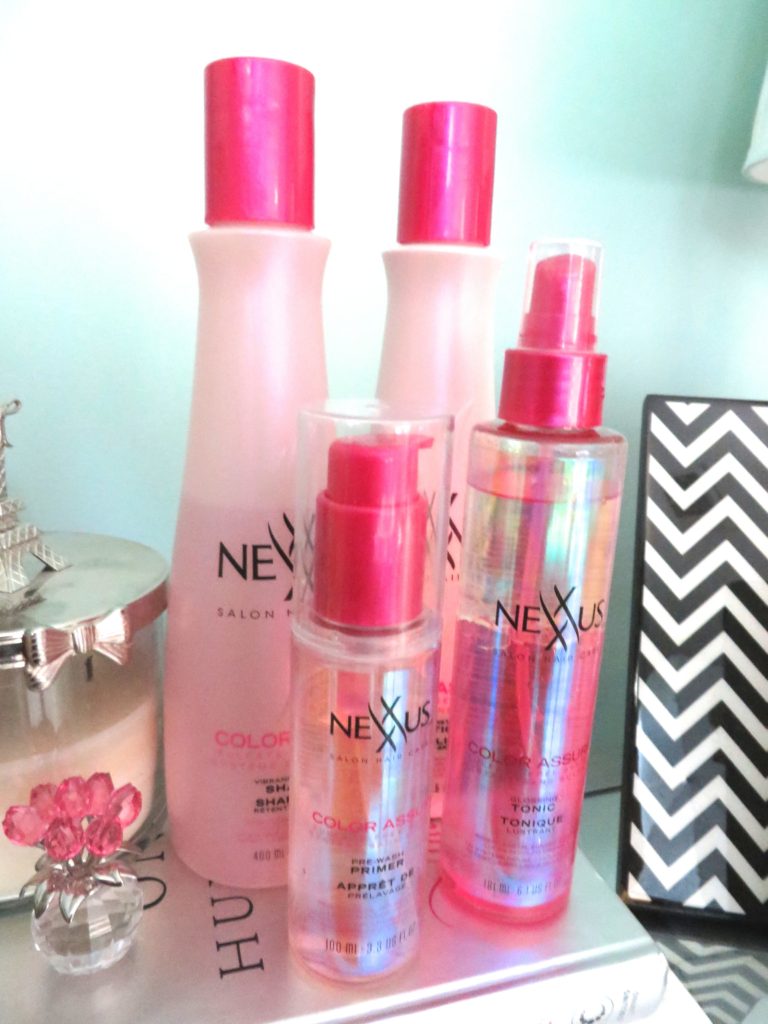 The products mentioned in this post were provided to me complimentary from Nexxus through Conde Nast.  This is a sponsored post.  All thoughts and opinions are my own.