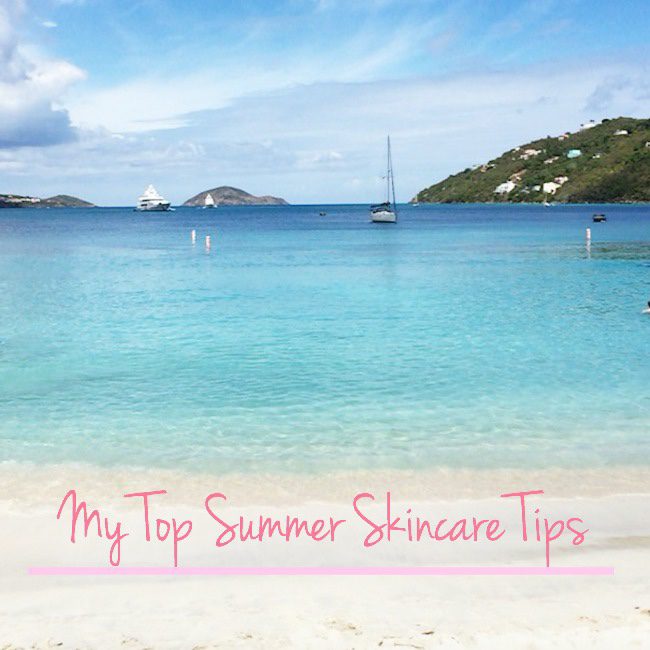 The Summer is one of the most difficult times of year for my skin. I have a super fair complexion so the sun basically hates me, ha. The temperatures are hot, the sun is damaging and I want to make sure that I'm keeping my skin protected and hydrated this time of year. If I don't stay on top of my skincare game, my skin can go downhill pretty fast! I thought I'd share some of my top summer skincare tips with you guys so that you can stay on top of your skincare game as well!
PS That picture was taken when I went on vacation in March and that's the actual beach that Rob and I got married on!  It's in St Thomas at Magen's bay!!! 
My Top Summer Skincare Tips
Facial Mists
If you're going to the beach, why not put a bottle of your favorite toner or a skin mist like Evian's face Mist in the cooler?!? It will feel amazing on the skin! Trust me! It will also help cool you down and hydrate your face!
Tatcha Luminous Dewy Skin Mist
The bigger the hat the better!
This might be the most important Summer Skincare Tip of all! Wear a hat!  Seriously. It helps protect your scalp and face from sun damage.  The bigger the hat the better! Cute wide brimmed hats are everywhere right now, but even if it's just one of your favorite ball caps, make sure to wear one when outside!
Exfoliate
Do not be afraid to exfoliate! If you want an even complexion, help with break outs, blackheads and a great canvas to apply makeup, you must exfoliate! I love the Dr. Dennis Gross Peel Pads because there are a variety of formulas to choose from for different skin types. It takes less than five minutes to do this peel and my skin looks and feels amazing! I do this about every other day (I have somewhat sensitive skin) and I am always careful to make sure to wear an SPF on my face as well! Exfoliation is key to a good skin care routine!
Dr. Dennis Gross Alpha Beta Peel Pads
Kate Somerville ExfoliKate Intensive Exfoliating Treatment
First Aid Beauty Facial Radiance Pads
Also, don't forget to exfoliate your body! It's essential for having super soft skin and an even base for your sunless tanners!
L'Occitane Almond Exfoliating And Smoothing Delicious Paste
Caudalie Crushed Cabernet Scrub
The Body Shop British Rose Exfoliating Gel Body Scrub
SPF Every Day
Never ever go a day without wearing sunscreen! Sun damage can be deadly and most of us are great about wearing sunscreen on our face and body, don't forget areas like your ears, your hands, lips and your scalp! Find a sunscreen that works for you and stick with it! I really like the brand Coola and this kit from Sephora is a great value! Not only will it keep your makeup in place, but it will also help protect your body and your lips! I like this brand because their products feature more than just an SPF, but also good for your skin ingredients like antioxidants, vitamins, green tea and aloe! The makeup setting spray will not only help keep your makeup in place, but also features an SPF. This is a great kit to have for Summer!
Supergoop! Everyday Sunscreen SPF 50
Acure Organics SPF 30 Continuous Spray
Remember to stay on top of your SPF.  Reapply as often as the package tells you to! Just applying once will not keep your skin safe and you will burn!
After-Sun Care
If you do end up burning while being outside, yogurt will be your best friend! Yogurt is amazing for helping to calm down the skin and help sooth it because it features lactic acid. Also, Aloe Vera is key! Slather it all over your burn 3-4 times a day.
Korres After Sun Greek Yoghurt Cooling Gel
Sun Bum Cooling Down Hydrating After Sun Lotion Soothing and Healing Aloe Gel
Belive in the power of a good Facial Oil
I have used Facial Oils for years and I've added quite a few to my own personal skincare routine. I use different ones for different reasons. Sometimes I need hydration, luminosity, other times I need help to calm and soothe my skin. Don't be afraid of oils! You can add them to foundations, primers, moisturizers or use them alone on the skin. They make a huge difference in my skin!
Cover FX Custom Infusion Drops
Jurlique Skin Balancing Facial Oil
Olay Regenerist Luminous Facial Oil
Fake it!
Don't let not going out in the sun deprive you of a golden tan! There are so many sunless tanners out there that work fantastic. Take advantage of them! There are different types of them as well. Some are gradual, in-shower, instant. Take some time to find what works best for you and one that offers the most believable finish.
St. Tropez Self Tan Untinted Classic Bronzing Mousse
Hydration is key!
Hydrate your entire face and body! Seriously, slather on hydrating products and you'll thank me. Being in air-conditioned environments and the really dry, hot weather depletes our skin of hydration. Also, drink as much water as you can every single day. It keeps your body hydrated and your skin will glow!
First Aid Beauty Ultra Repair Face Moisturizer
Kiehl's Rose Artica Lightweight Cream
Garnier Nutritioniste Moisture Rescue Refresher Gel Cream
Skincare and Makeup
I love it when I get makeup that also doubles up as skincare as well! More and more, people have less time and they want the biggest bank for their buck and a product that multitasks. That's why I love a good BB Cream or CC Cream. They're makeup, but they're full of amazing ingredients for your skin and they almost always contain an SPF. They differ in coverages and finishes, which I love because it allows everyone to find one that they will like on their skin. They're light and perfect for summer!
Coola Rosilliance Organic BB Cream
Clinique Moisture Surge CC Cream
I like to keep my Summer skincare routine quite simple, but I still want to use products that are helping me have the best skin possible. That also takes work on my part. Staying out the Sun as much as I can, wearing SPF and using products that will help repair any damage I might get while outside. I've learned to embrace my paleness and really rely on sunless tanners to help give me a glow that I'm looking for.
I hope that my Summer Skincare Tips will help you! Remember to keep it simple, but make sure that you're doing your part to help protect your skin! Coming up soon is my Summer Makeup Tips! A lot (and I mean A LOT) of you asked me about how I get my makeup to last all day when it's so hot outside and I've got some suggestions!!!
Affiliate Links included.