Another month has passed and now it's time for my March Beauty Favorites 2014. I'm actually going to do two favorites this month. One being beauty related and the second one will be lifestyle favorites.  I know that I always personally enjoy watching other bloggers share some non-beauty related items and I've got quite a few I think you guys might enjoy!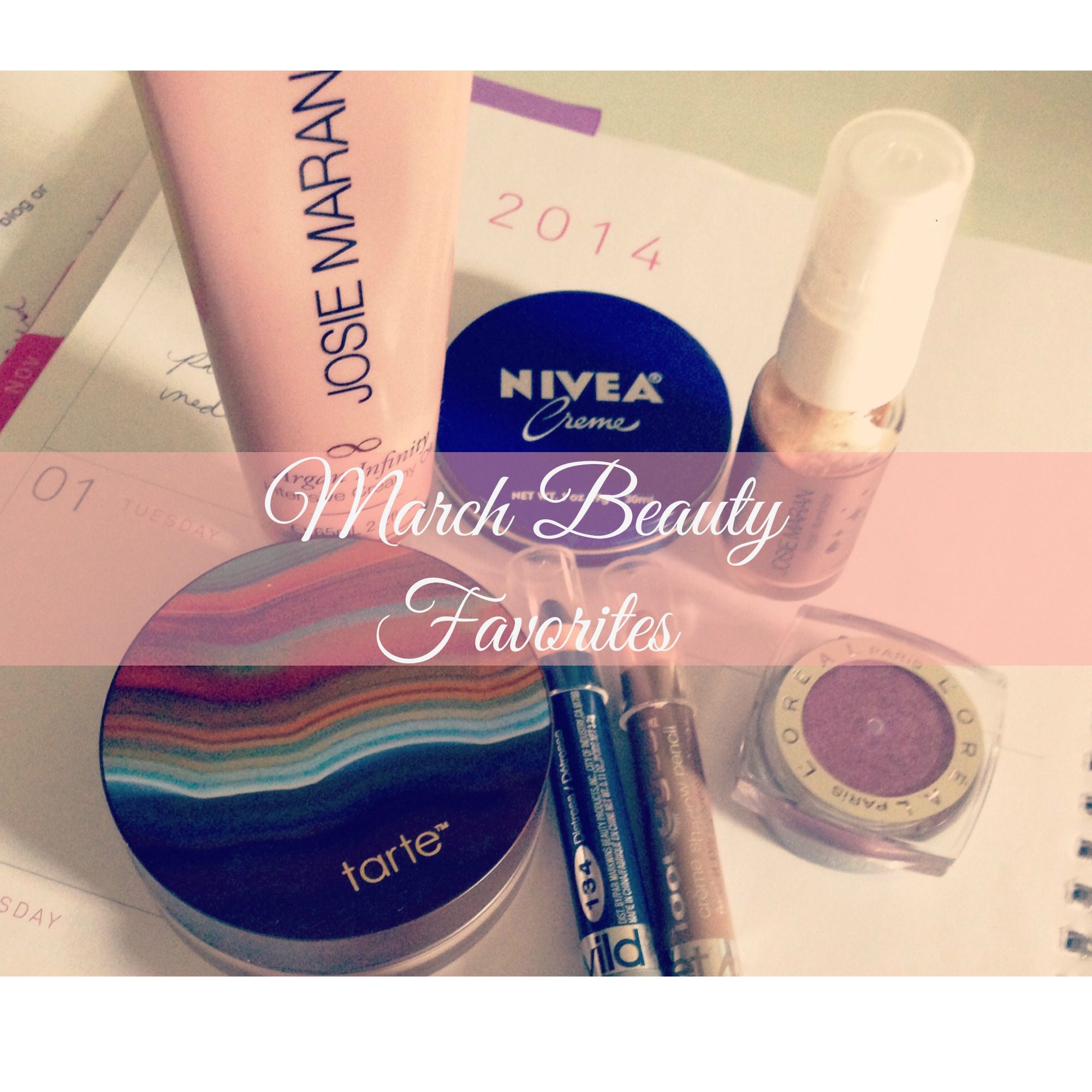 March seemed to be all about me loving products that give me that illuminated, radiant glow to the skin. Spring is finally here and I've already worn some dresses, so it's time to make sure my skin looks healthy and anything that can help give it some life is appreciated! Here's a look at my March Beauty Favorites! Make sure to watch my YouTube video because I go into a bit more detail about each of the products. Enjoy!
Tarte Colored Clay Liquid Foundation ($69.00 included with a Brush)
This foundation gives my skin a fantastic radiant glow.  It's lightweight and I feel like I'm not really wearing makeup when I have this on. It contains anti-oxidants and complexion correcting colored-clay. Here's a little bit more about the product from Tarte's website:
Colored Clay: Addresses Unique Skin & Complexion Concerns
purple: brightens dull, lackluster skin
green: neutralizes skin redness
yellow: diffuses dark circles and hyper-pigmentation
brown: defends against environmental free radical damage
red: nourishes skin to help prevent signs of aging
Product Performance
Antioxidant-rich formula covers, brightens, neutralizes discolorations and evens skin tone as it helps prevent signs of aging
Blends and builds effortlessly to provide flawless full coverage that smooths skin texture, masks imperfections and diffuses the appearance of fine lines and wrinkles
Custom mesh delivery system & brush allow for easy, mess-free application every time
Josie Maran Argan Illuminizer ($28.00)
Another product that can be added to your list of must-have products for Spring and Summer. I love that I can use this illuminizer in so many different ways. I like to add it to my shoulders, collar-bone, legs and face. It can be used alone or with lotion or foundation. It will give you a gorgeous bronzed glow!
What it is:
An ultra-light skin brightener with a hint of bronze.
What it does:
This bronze shade is perfect for highlighting and adding an instant beautiful luminosity to the face, collarbone, and body. Argan Illuminizer can be used alone or mixed with foundation for an instant boost of radiance and a natural glow any time of year and on skintone. It gives the skin a radiant glow that lasts all day.
Nivea Creme ($1.00 and up)
A drugstore find on a whim that has become a must-have. I use this on my hands and body, but I've also used this on my face and I didn't break out or have any sensitivity issues. This is a product that is very budget friendly and does a fantastic job at moisturizing my skin. I keep a small tin of this with me at all times and it cost me $1.00. It's amazing!
Josie Maran Argan Infinity Intensive Creamy Oil ($28.00)
There are an "infinite" number of ways to use this product. Face moisturizer, eye cream, hand cream, highlighter and so many more. I love to use this on dry skin and also to transform powder makeup to cream. It's a fantastic product that I seem to be reaching for daily. One problem that I notice is that it can be quite oily at first when squeezing out of the package.  I don't know that I'd leave this in a car or anything, especially on a hot day.  They say that this can be used as a primer, but for my skin type, I don't think this would work that great. Otherwise, everything about this product is fantastic. Here's some information from Josie's website:
What it is: Makeup artists go crazy for my Infinity Cream, and no wonder. Sunburn? Flaky lips? Under-eye bags? Breakout? A dab of my Argan Infinity Cream balances, moisturizes, de-swells, highlights, primes, and preps—and that's just for starters. A luxurious toolbox in a tube, it makes the most of the versatility and endless possibilities of my star ingredient, 100% Pure Argan Oil.
Why I love it: When I need my argan fix on the go and don't want to carry a bottle of oil, Infinity Cream is my go-to miracle cure. It goes on as a cream, melts into an ultra-absorbent oil, and feels like buttah. It conditions my lips for emergency touch-ups, smoothes out rough spots, tames renegade eyebrows, highlights my cheekbones with no fuss, no spills. It's luxury and convenience times infinity.
What's in it: Packed with natural fruit and nut extracts, oils, and butters, my Argan Infinity Cream proves that Mother Nature is the real Ms. Fix It. It's full of 100% Pure Argan Oil in a creamy base infused with shea butter, aloe vera, mango seed butter, and macadamia seed oil for effortless application.
What's not in it: There's an infinite number of things that don't belong in my Infinity Cream. Among them: parabens, artificial fragrances, and chemicals that leave your skin and the planet high and dry.
L'Oreal Infallible Eye Shadow Burst Into Bloom ($7.99)
This is a holy grail product. These L'Oreal Infallible Eyeshadows are fantastic and a great product if you are looking for a super pigmented eyeshadow. Use this wet or dry for different results. I love each of these shadows that I've picked up, but the Burst Into Bloom is just a fantastic addition for my Spring makeup.
Wet n WIld Idol Eyes in Distress and Pixie ($1.49 and up)
I picked these up recently while shopping at CVS. They were under $2.00 and I figured why not. I had ZERO idea that they were so pigmented and worked that good. Wet n Wild is always that brand that randomly shocks me. I can't remember how many more colors there were in the collection, but I'm going to pick some up ASAP!
So there ya have it! My March Beauty Favorites!! It was a good month and I'm looking forward to seeing what April has in store! I'm keeping my fingers crossed for some brighter colors and some really good beauty products! Make sure you check out my YouTube video while you're here! I go into much more detail with each product! Also, subscribe to my channel. You never know what you're going to see next!