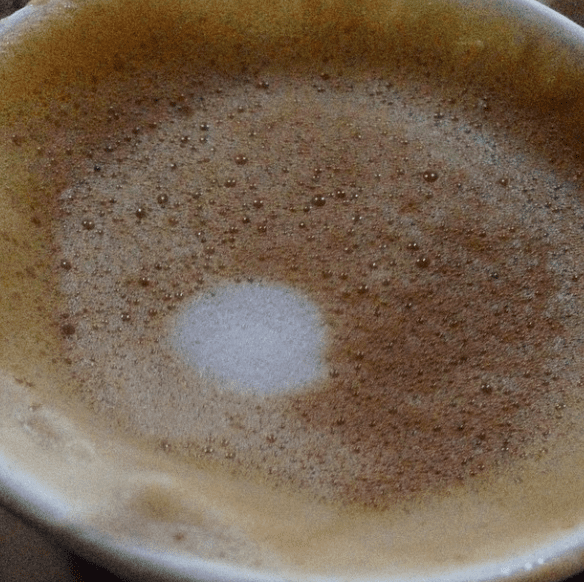 2.  Starbucks Flat White (Expensive, but hey, it's Starbucks! We expect this!)
"The Starbucks® Flat White is an espresso beverage made with two ristretto shots, combined with a thin layer of velvety steamed whole milk and finished with a latte art dot.  A ristretto shot delivers a sweeter, more intense coffee flavor.  Starbucks baristas perfectly steam milk into creamy micro-foam and carefully free pour to allow the espresso to rise to the top of the beverage for a bold coffee flavor with a sweeter finish. The Starbucks® Flat White joins the core menu line-up of espresso beverages like Caffé Americano, Caffé Latte, Cappuccino, Doppio Espresso and Espresso Macchiato.."–Starbucks
I have a confession and it's quite shocking if you know me.  I haven't really had a lot of Starbucks in the past 6 months or so.  Possibly even longer.  It's all thanks to my Nespresso!  Honestly that machine is worth the investment if you are an Espresso/Coffee lover.  I talked about it here, in one of my older YouTube videos.  Anyways, I got some Gift Cards to Starbucks for my Birthday and Christmas (Thanks to Vivienne and my husband!!) and I have been going every so often.  Starbucks came out with the Flat White, which if I have heard correctly,  it was already available in Starbucks in the UK.  It's delicious! If you like a bolder coffee and not something mixed in with flavored syrups and all of that-you will love the Flat White.  It's been my go-to drink as of lately when I'm lazy and don't want to make something at home.  It is quite pricey, but it's Starbucks and we should all be used to that.  It's basically just shots of espresso and steamed milk if you think about it.  In all fairness, it is delicious! So if you've been curious about trying it-I say go for it!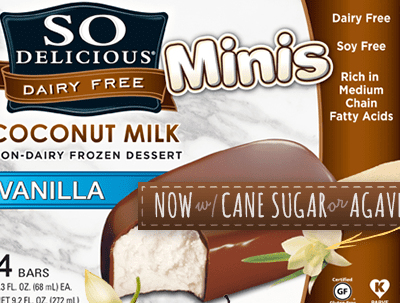 3.  So Delicious Minis Vanilla Flavored Coconut Milk (No dairy, No Soy)
In my quest to get better at watching what I'm eating and really concentrating on becoming healthier, I have found some new indulgences.  I've been trying to watch my Dairy consumption because I love me a Cold Glass of Milk and Cheese! Damn the cheese! I love it.  Every once in a while I will crave ice cream or something sweet.  I've seen a lot of people talk about the So Delicious brand and I picked up a box of the Vanilla Coconut Milk Bars.  YUM!  They are Dairy Free and Soy Free, which scared me a bit at first, but one bite later I was like OH YES! These are fantastic for a treat every now and then.  I might have to try some of their other products now that I know not to fear Coconut Milk like I do Almond Milk. Seriously,  I just can't with Almond Milk.