It's time again for the Sephora VIB Holiday Shopping Event! Whether you are shopping for yourself or for others, it's a great time to get some good deals!  Seriously 20% off EVERYTHING from November 6th-November 10th!  You can use the discount online or in stores!  Here's a list of the items that I'm currently loving and have my eyes on!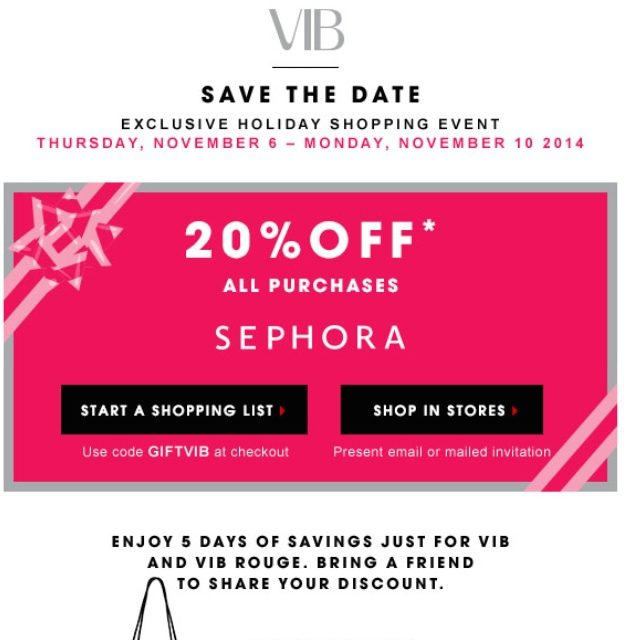 [line]
Sephora VIB Holiday Shopping Event Gift Suggestions:
Smashbox Double Exposure Palette $52.00
In need of a gorgeous eye palette? Go ahead and treat yourself to the new Smashbox Double Exposure Palette! GORGEOUS colors will have you dolled up for Fall and Winter!
Laura Mercier Artist's Palette for Eyes & Cheeks $58.00
Laura Mercier Artist's Palettes are always so, so good.  This new Eye & Cheeks is another goodie!  Her shadows are always so pigmented and buttery.  LOVE THEM!!
Ciate Mini Manor Advent Calendar  $60.00
24 Piece Nail Advent Calendar that is perfect for the nail polish addicts in your life! I love beauty advent calendars because I get something new every single day!
Foreo LUNA for Sensitive/Normal Skin $199.00
What it does:
The LUNA for Sensitive/Normal Skin's brush surface features thinner silicone touch-points for gentle cleansing, with an area of thicker touch-points grouped towards the top for deeper, precision cleansing. The antiaging surface on the reverse side consists of a series of concentric silicone waves. The LUNA reduces the appearance of fine lines and wrinkles and leaves the skin looking and feeling firmer and more elastic. It removes dead skin cells and unclogs pores of dirt, oil, and makeup residue, while enhancing the absorption of your favorite skincare products. –Sephora
Dr. Dennis Gross Steamer Solutions $125.00
Call me curious! I've seen this several times while shopping at Nordstrom's, but I've never taken the plunge!  If you are serious about your skincare, this might be the next thing you're looking for!
What it does:
This at-home facial device delivers a constant flow of moisture for dry, dehydrated skin. Steam fusion technology simultaneously cleanses pores, exfoliates, and hydrates skin, leaving it nice and soft. The steamer delivers a continuous facial treatment for up to 20 minutes, providing immediate and long term results when used with Dr. Dennis Gross Skincare™ treatment products. Indulge in this luxurious and effective spa treatment at home one to two times per week or as needed. It works to infuse hydration, clear the complexion, enhance product penetration, and soothe and promote relaxation.
Clarisonic Smart Profile $265.00
What it does:
Re-imagined, re-designed, re-engineered. Smart Profile™ introduces the most functional and intuitive device to ever touch your skin—a powerful, professional cleanse at the push of a button for a total skin transformation. Head-to-handle smart technology automatically adjusts power and timing to fit specific skin needs while the redesigned user interface visually indicates speed, battery-life, smart setting, and brush replacement. With amplified turbo boost to add a power boost to your cleansing routine, four speeds, extended usage, and head to toe capabilities, this device cleanses 11 times better than hands alone for superior results.
Enhance your experience with the Refining Skin Polish for the body. This intensive, 3-tier refining solution exfoliates, firms, and smooths, delivering radiant, silky-soft skin. The Refreshing Gel Cleanser contains willowbark extract and beta-hydroxy acid to balance and clarify while antioxidants soothe and protect. Bearberry extract helps promote a bright, even skintone, and pro-vitamins B5 and B12 promote skin hydration.
Fresh Rose Face Mask $58.00
A Beauty Favorite! It smells divine and it makes my skin feel so amazing!
What it is:
A hydrating and toning mask with a cooling gel formula infused with pure rosewater and real rose petals.
Tory Burch Rollerball Cracker $25.00
I love this fragrance. It reminds me of a really classic, feminine fragrance.  I love it! This is a great gift to keep around for those emergency gift giving needs!
https://www.simplystine.com/wp-admin/post-new.php#
Bobbi Brown Mini Eye Palette
Bobbi just does THE perfect palettes.  This is a great, low-cost palette that features some gorgeous colors!  Can't beat this for the price!
NARS Virtual Domination Cheek Palette $65.00
If these were sold individually, we'd be talking about $150.0!  This is a steal at $65.00 and it features some of their most sought after colors! I love that NARS cheek colors!
Sephora Favorites Lashstash $45.00
Looking for new mascara but don't know what to try? Here's a great gift for you! This features 10 mascaras and a makeup remover.  Perfect to give yourself a variety to try!
This set contains:
– 0.05 oz Benefit Cosmetics They're Real Mascara In Jet Black
– 0.2 oz Buxom® Lash Mascara In Blackest Black
– 0.07 oz Clinique Dual Ended High Impact Mascara And Lash Primer
– 0.17 oz Josie Maran Argan Black Oil Mascara
– 0.1 oz Kat Von D Immortal Lash 24HR Mascara
– 0.135 oz Lancôme Paris Hypnôse Drama Mascara
– 0.84 oz Sephora Collection Waterproof Eye Makeup Remover
– 0.067 oz Sephora Collection Outrageous Curl Dramatic Volume And Curl Mascara
– 0.32 oz Smashbox Full Exposure Mascara In Jet Black
– 0.08 oz Urban Decay Perversion Mascara
– 0.06 oz YSL Mascara Volume Effect Faux Baby Doll
Sephora Skin Wonderland $56.00
This is high on my list to grab.  It features some amazing products and if sold separately, it would retail for $147.00!
This Set Contains:
– Shiseido Benefiance WrinkleResist24 Pure Retinol Express Smoothing Eye Mask Sheet
– 0.5 oz Kate Somerville ExfoliKate® Intensive Exfoliating Treatment
– 0.34 oz Nude Skincare ProGenius™ Treatment Oil
– 0.2 oz Amorepacific Treatment Enzyme Peel
– 2.5 oz L'Occitane Cleansing And Softening Shower Oil With Almond Oil
– 2.5 oz Caudalie Hand And Nail Cream
– 0.15 oz Josie Maran Argan Infinity Cream Intensive Creamy Oil
– 0.5 oz Jurlique Rosewater Balancing Mist
– 1 oz Clarins Tonic Body Treatment Oil
– 0.9 oz Lavanila Laboratories The Healthy Deodorant in Pure Vanilla
– 0.5 oz Ole Henriksen Lemon Strip Flash Peel
[line]
To get the discount, use code GIFTVIB at checkout or show your email that your received (If you are VIB or VIB Rouge) at the store when checking out!  Let me know what you pick up or if there are any items that I need to add  to my must-have list!  Happy Shopping!!!