Have you tried a Micellar Cleansing Water before?  I think they're a must-have product for anyone who is serious about their skincare!  I've used them for years and I'm excited that they're finally becoming more readily available in the US.
I have used several different brands that make Micellar Cleansing Water before and I have to say that the Garnier Micellar Cleansing Waters have really impressed me!  I have enjoyed them so much that I haven't ordered my go-to Bioderma.  That's never happened before!  Just saying!
I've talked about Micellar Cleansing Water several times on the blog before.  They're a part of my skincare routine and if you haven't jumped onto the cleansing water bandwagon yet, I'm hoping to convince you to give these new Garnier Micellar Cleansing Waters a try!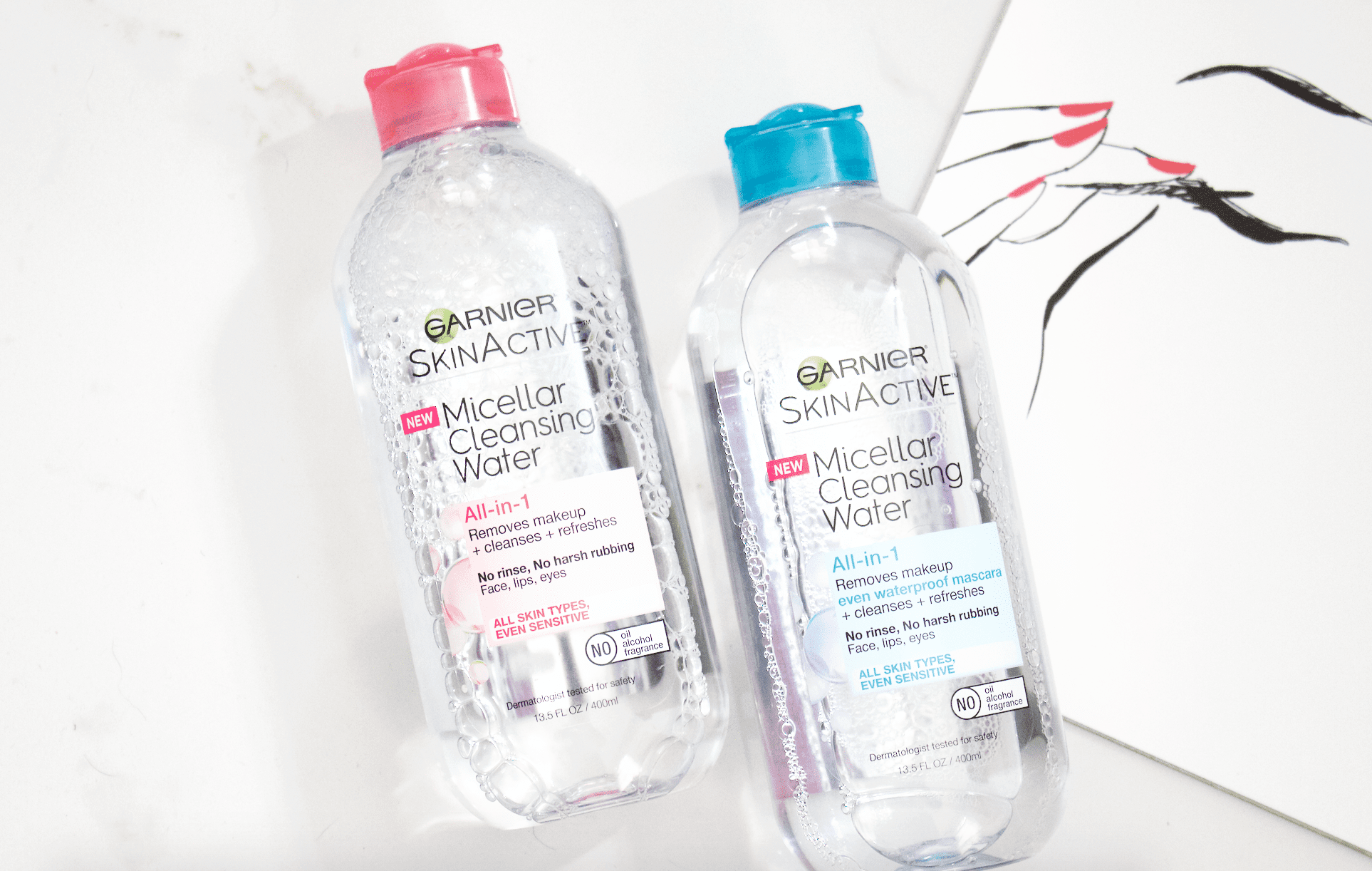 Garnier offers two versions of their Micellar Cleansing Water.  A regular version and the other is a waterproof formula. I feel like the water-proof formula, since it's a bi-phase formula, is a little bit more on the oily side and not like a traditional Micellar Cleanser.  I like it, but just know that you will probably feel a more oily residue leftover than you will when using the original formula.  I feel that it does a better job at removing stubborn makeup (such as water-proof) than the original version, but If I'm not wearing a lot of makeup or no water-proof makeup, I stick with the original bottle.
Another thing to note, I do not use the water-proof version all over my face, unless I'm wearing some very heavy foundation or lipstick.  Most of the time, I just use the water-proof formula on my eyes only.
If you're needing to travel and don't want to take the HUGE bottle along with you?  You're in luck!  Garnier also released Micellar Cleansing Wipes and they also have small, travel-sized bottles available of their Micellar Waters. FINALLY!
Questions about Micellar Cleansing Water? Here are some helpful tips:
Micellar Cleansing Water is a cleanser!  They might not look like the traditional cleanser, but these will attract and break down the dirt, oil, and makeup that are sitting in your pores!  I prefer this type of cleanser because it's a lot more gentle on my skin!
You can use a Micellar Cleansing Water just as you would your normal cleanser, but you don't need to rinse it off your skin.  I apply mine to a cotton pad and wipe it all over my face, gently.  For my eyes, I soak a cotton pad and apply it to my eyes, letting it sit for a couple seconds before I begin to remove the makeup.
These are great for a double cleanse routine.  Some people use the Micellar Water before their regular cleansers to remove their makeup.  Some people use their regular cleanser and follow up with the Micellar formula to get any extra makeup that is still sitting on the face (aka raccoon eyes!).  It's entirely up to you!
PROS and CONS of the Garnier Micellar Cleansing Water:
PROS:
HUGE Bottle for the price!  These are super budget friendly!
Available in most drugstores (I found them very easily)
I like these a lot better than some of the previous Micellar Waters that have been released in the US!
Works just as good as my more expensive love, Bioderma!
CONS:
The Water-Proof Formula is more of a Bi-Phase Formula.  It says it is oil-free, but there are added ingredients (I believe Silicone??) that will leave a residue behind.  I use this on my eyes only or my lips if I'm wearing a very pigmented lipstick.
I wish they would package these in a bottle with a pump.  I notice that some of the product ends up dripping down the bottle when I apply it to the cotton pad.  Nothing major!

Affiliate Links Included.  All opinions are my own.