Somehow it's already almost Memorial Day and I'm not quite sure how that happened. Did I spend an entire week sick in bed? Sure did! However, time is flying! One thing I'm excited about? Poolside reading! It's getting hot in Georgia and I actually sat poolside yesterday and read for a bit. Time to get those summer books ready to go! (Because yes, I do NEED more books, ha!!!)
Today I wanted to talk about some of my favorite products that I'm loving right now. My must-haves of the moment are random, but it's everything I'm loving right now. Some of the products I'm going to mention will have an affiliate link. If you click the link, at no extra cost to you, you'll be supporting Simply Stine and for that I thank you!
One of my go-to authors. I read both People We Meet on Vacation and Beach Lovers and loved both of them. I listened to the audiobook of Book Lovers because my favorite narrator, Julia Whelan. I couldn't stop listening to this book and snuck in a quick listen whenever and wherever I could. Dare I say that this might be my favorite book she's written so far?!?!?!
Synopsis:
One summer. Two rivals. A plot twist they didn't see coming…

Nora Stephens' life is books—she's read them all—and she is not that type of heroine. Not the plucky one, not the laidback dream girl, and especially not the sweetheart. In fact, the only people Nora is a heroine for are her clients, for whom she lands enormous deals as a cutthroat literary agent, and her beloved little sister Libby.

Which is why she agrees to go to Sunshine Falls, North Carolina for the month of August when Libby begs her for a sisters' trip away—with visions of a small town transformation for Nora, who she's convinced needs to become the heroine in her own story. But instead of picnics in meadows, or run-ins with a handsome country doctor or bulging-forearmed bartender, Nora keeps bumping into Charlie Lastra, a bookish brooding editor from back in the city. It would be a meet-cute if not for the fact that they've met many times and it's never been cute.

If Nora knows she's not an ideal heroine, Charlie knows he's nobody's hero, but as they are thrown together again and again—in a series of coincidences no editor worth their salt would allow—what they discover might just unravel the carefully crafted stories they've written about themselves.
One of the most important steps of my hair routine is using a blonde enhancing toning shampoo once a week. I tend to get brassy super easily in the summer and this Olaplex No.4P Shampoo is fantastic. It gets rid of all brassy tones and gets my blonde hair back to normal. I only leave this in for a couple of minutes and voila, I have my hair back to normal.
I picked up this Tula Face Mask after I saw it suggested on Instagram by an account I follow. Should be noted this was an account that I really trust and enjoy trying their recommendations. Anyways, this face mask is great for hydrating and providing your skin nourishment. It helps calm and soothe the skin. It contains ceramides that help to retain moisture and also lactic acid that helps to smoothen and soften the skin.
At first, I didn't know if I really noticed a big difference using it. I'd use about two to three pumps and use it overnight. However, the more I used it, the more that I noticed my skin felt more plump and hydrated. If my skin was having a flare up, I'd use this even before putting on makeup. Basically, I now love this face mask.
I use it overnight about three times a week. I'll also use it before applying makeup by applying it on my face about an hour before I start putting on my makeup. I never rinse it off, just use it as a moisturizer. I feel like this is going to be a great face mask for summertime.
I've been using this product for a couple of years now. It's so easy to use on-the-go. I took this with me to Disney World and used it on my face, ears, and scalp. It's fantastic for reapplying sunscreen. The brush is just so convenient and it applies easily. It contains SPF 35 and I haven't found anything that I like as much. It's always a repurchase.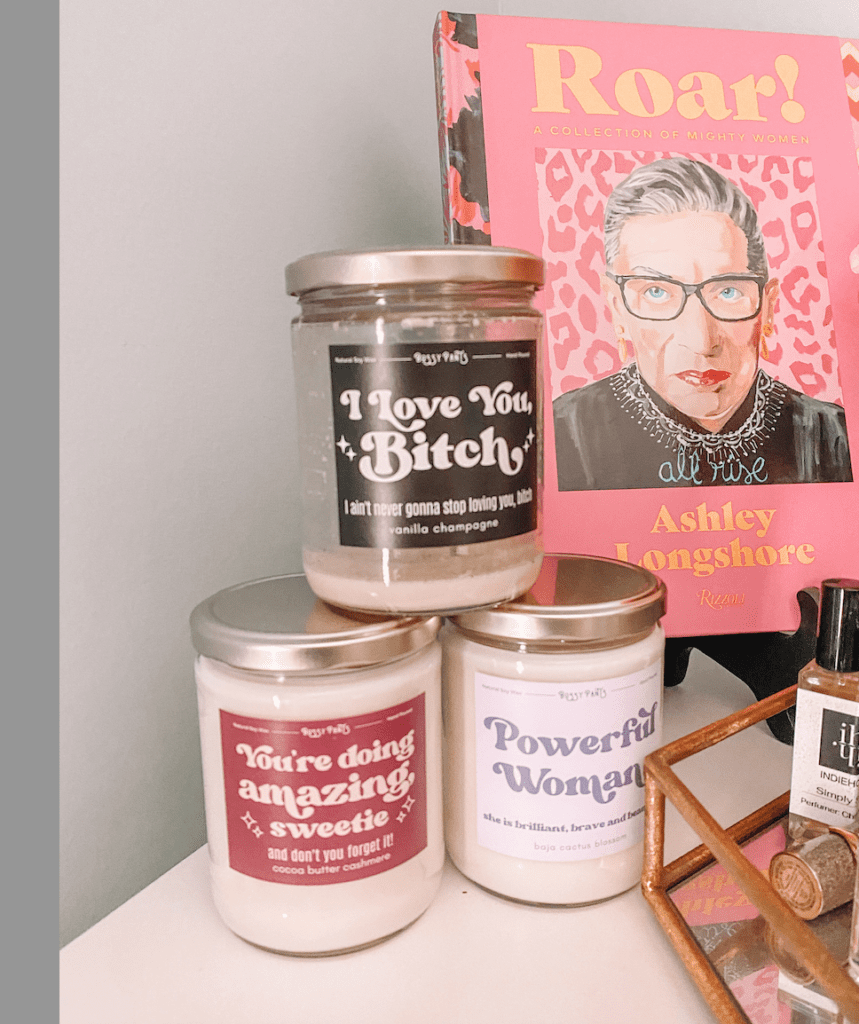 Rob gifted me four of these candles during a time when I needed a bit of cheering up. He knows that I love candles AND he said they seemed like something I'd love. He was exactly right. Not only are these fun candles, BUT they smell incredible. I am in love with each and every one he picked out for me. Sayings and all.
I just ordered the Your The TIts as a gift for my SIL. I also LOVE the I Love You, Bitch and have that burning in my bedroom almost nightly since I got it. I have Professional Overthinker in my office. I also have Powerful Woman, which smells incredible, but I haven't lit that one just yet.
Basically, I want them all and am so proud to support this small business! My next order will include the LIttle Ray of Pitch Black.
Shop The Post