It's May, so you know what that means.  Besides lots of May showers (good thing I have found some good haircare products to fight frizz),  I've also made my list for favorite beauty products for the month of April.  This was a tough month because I used quite a bit of new products/product lines during April, but I think I picked a good assortment.  Some skincare, makeup and hair care products.
1.  Nuance line from Salma Hayek.  This was featured in my latest haul video and I've since used it more and WOW!  This is for sure my #1 product find for April.   I have been using the BB Cream and the AM/PM Super Anti-Aging Cream like crazy.  In my video I talked about how I thought the moisturizer would be to think and heavy for daytime, I was so wrong!  It does feel heavy at first, but as it sinks into the skin,  it is great!  The BB Cream is a good color match for my skin and gives a really nice radiant glow (Light/Medium).  I can get a little oily, but nothing that a good powder can't fix.  As far as coverage, it is tends to even out my skin tone pretty nicely.  If I am experiencing a lot of redness, it sometimes isn't enough. These products are only available at and they always have some pretty good sales on this line (I got mine buy one get one half off).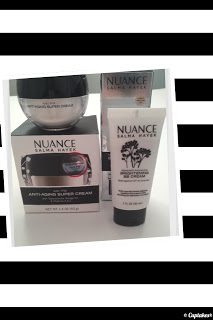 2.  Pantene BB Cream for hair.  Yep, you read that right, for hair.  Let me introduce you to the Ultimate 10 BB Creme from Pantene.  As soon as I saw that this was coming out I was on the hunt for it.  This BB Cream fights 10 different hair issues.  From frizz control, heat protection, shine enhancer and many more.  It's a product you can put  on your hair wet or dry.  At only $5.00 and some change, this is a steal! This is the perfect hair product for those of you that hate having to use multiple products on your hair.  I don't find that it's heavy at all and when I let my hair air dry, my curls/waves don't seem to frizz and my hair is super soft.
Image Source: Pantene
3.  DermOrganic Skincare and Haircare.  I got a sample of this line because someone told me how great it was and kept raving about the hair masque and face wash.  They would right!  The samples I got were a shampoo (seemed like a face wash, but in a good way), masque and a leave in treatment oil.  For skincare I got a face wash, moisturizer and an all over body lotion.  I really did enjoy using all of the products.  They are fabulous for sensitive skin and they work great.  I love the face wash.  It seems very rich and creamy and takes off any makeup perfectly.  It doesn't irritate my super sensitive skin either.  The shampoo is unlike any I have used before.  I can't explain the consistency of it, but it seems like a face wash.  You just have to try it.  The face moisturizer worked great on my oily-combination skin and didn't cause any breakouts or oil issues. Fragrance free is always an added bonus as well. This product line is available at Ulta and on their website.  I have sent them an email requesting more info….still waiting on that.
Image Source: DermOrganic
4. Maybelline Mega Plush Mascara.  I have been using this every single daily lately because it's a fantastic mascara.  Not only does it give me length and volume, it doesn't clump or wear off (It is a gel-mousse mascara).  The brush is nice, plus the wand itself is ultra flexible, which allows you to really work the mascara into your lashes.  This is one of the best mascaras I have used a in a long time.
Image Source: Maybelline
5.  Flower By Drew Barrymore Powder Foundation.  I reviewed this product line briefly before and really liked it.  I stopped using the Powder Foundation and went back to my MAC Studio Fix again.  I hit pan on it, finally and had to start using something else.  I forgot how much I liked this product.  For only $9.98, it is a very nice powder foundation that can be used as a foundation or just a powder to set your makeup. Believe it or not, the brush that comes with this is really good for touch ups.  I like that its slim enough to get around areas like the nose and under eyes.  This is available at Wal Mart only and my local store seems to have it stocked up most of the times.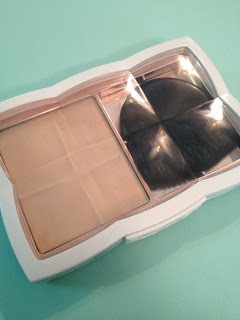 There you have it.  My favorites!  Have you tried any of these? I'd love to hear about it if you have!