Happy Friday! I wanted to talk about the e.l.f. Moisturizing Lipsticks because they really impressed me. The best part? They were only $3.00! I kid you not! I picked them up recently at Target (Go Figure…) and I wasn't expecting much with these. I've used some of their other lipstick in the past and they were just so-so. The e.l.f. Moisturizing Lipsticks are actually really nicely pigmented, don't dry out my lips, are decently packaged and I love how affordable they are.
The e.l.f. Moisturizing Lipsticks come in ten different shades. I picked up Rambling Rose and Rosy-Go-Round. Out of the two, I'd have to say that Rosy-Go-Round is probably my favorite. It's a gorgeous pop of Pink on the lips that's been perfect lately. Don't get me wrong, I still really like the Rambling Rose, but it's more of a Fall color for me. These are build able and you can have just a small amount of color to your lips or you can work your way up to a really nice full lip look. There wasn't a cheap plastic-gross scent with these either. Here's a perfect example of a product that I doubted and it showed me to not be such a snobby makeup judger!!!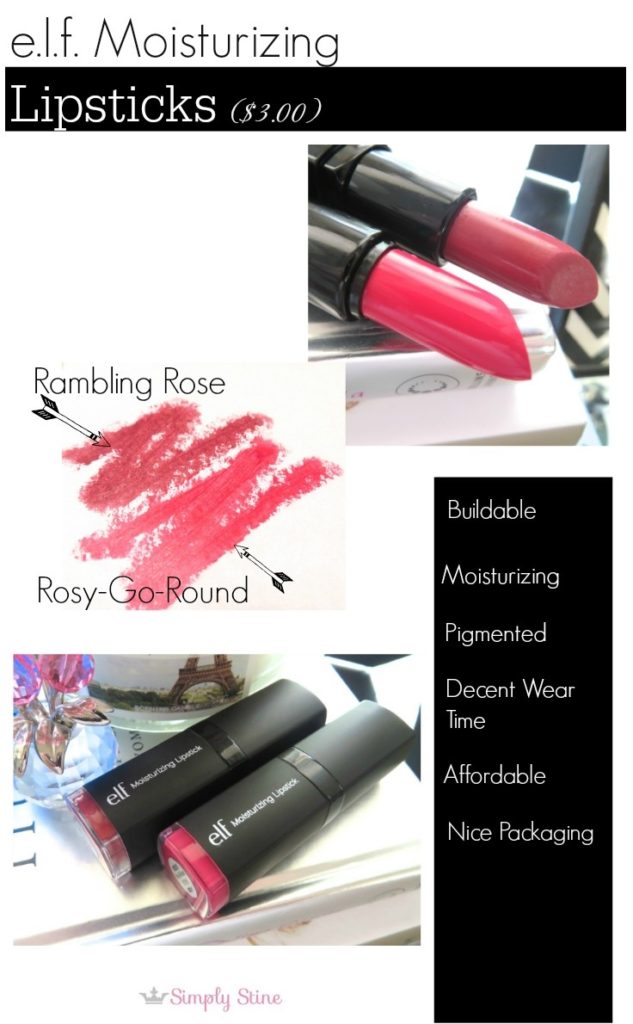 So if you're out enjoying your weekend and you happen to be at say, Target (because honestly, when aren't we at Target?!) and you are curious about these, pick up a couple! It would even make a nice gift for someone you know who is a makeup lover! I plan to go and pick up some other colors. At the time, I didn't want to buy a lot if they weren't any good, but now I know. If you aren't near a Target or any other store that carries the e.l.f. products (I think some Walgreens), don't worry! Here's a link where you can shop online!
e.l.f Moisturizing Lipsticks
Products mentioned in this post were paid for by Simply Stine.