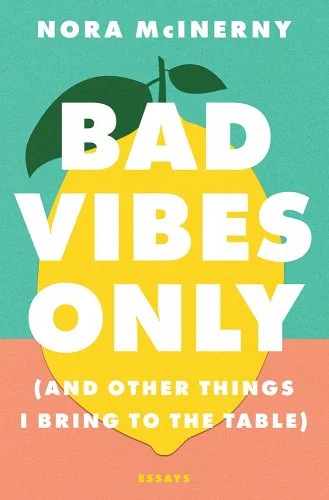 Synopsis:
Nora McInerny does not dance like no one is watching. In fact, she dances like everyone is watching, which is to say, she does not dance at all. A bestselling author and host of the beloved podcast Terrible, Thanks for Asking, which the New York Times called "a gift," she has captured the hearts of millions with her disarming and earnest approach to discussing grief and loss. Now, with Bad Vibes Only, she turns her eye on our aggressively, oppressively optimistic culture, our obsession with self-improvement, and what it really means to live authentically in the online age.
In essays that revisit her cringey past and anticipate her rapidly approaching, early middle-aged future, McInerny lays bare her own chaos, inviting us to drop the facade of perfection and embrace the truth: that we are all–at best–slightly unhinged. Socrates claimed that the unexamined life is not worth living. Bad Vibes Only is for the people who have taken that dictum a bit too far–the overthinkers, the analyzers, the recovering Girl Bosses, and the burned-out personal brand–reminding us that a life worth living is about more than just "good vibes."
My Thoughts:
This was a good, quick read. I laughed quite often and the book made me do a lot of thinking. I'd for sure recommend this read. Definitely an interesting read for someone who has gone through grief, loss, and who also feels unhinged.
Shop The Post