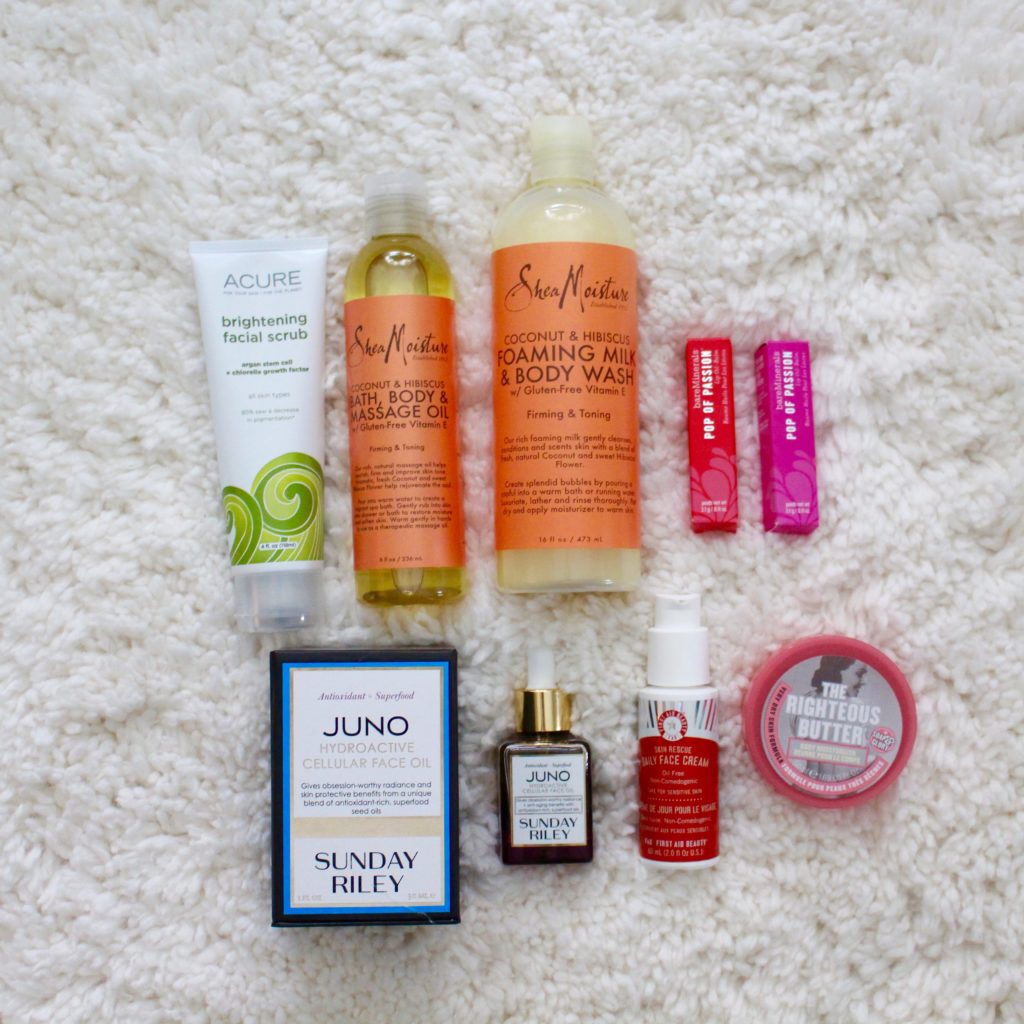 April Beauty Favorites
1.  First Aid Beauty Moisturizer Skin Rescue Daily Face Cream ($20.00)
My skin is crazy.  I'll admit it.  Everyone always tells me that my skin is perfect.  HA! Makeup can do a lot, people!  It's not that I have a lot of issues with breakouts or anything, but more issues with oil control and dryness.  Those two are hard to deal with at the same time.  So I struggle with finding the right moisturizers. I'll be talking more about this moisturizer in a separate blog post soon, but this is great for those with combination skin types, acne prone skin types and sensitive skin! It's very light-weight and it seems to help with my redness and oil-control.
2. Shea Moisture Coconut and Hibiscus Body Wash and Body Oil ($9.00 and up)
This brand is carried at my Target store and I picked up two of the items because I was out of body wash and I love a good body oil.  The scent of this product takes me back to a beach in the caribbean, soaking up the sun, sipping cocktails.  It's scent is incredible.  It also works nicely.  I have been enjoying the body wash with no sensitivity issues and the body oil is fantastic.  I use it right after the shower all over OR in my actual bath.  I'm left with super soft skin that smells like the tropics.  PS It's also very, very affordable!
3. Sunday Riley Juno Hydroactive Cellular Facial Oil ($90.00)
I've been trying to think of how to talk about this product.  I'm going to do a separate post on it soon, so I'm not going to go into a lot of detail right now.  However, I want to talk about it and tell you why I love it so much.  It's a Facial Oil.  I use it twice a day, five drops or so and it leaves my skin glowing and feeling super hydrated.  Does this smell good? Probably not to most people.  To me, it smells like an herb garden, lol!  The smell doesn't bother me at all.  I can actually tell a huge, immediate difference in my skin when I haven't used this.  That tells me a lot.  You can still use your serums and moisturizers with this product as well.  So for those of you who are really into skincare, I'll be talking about this on the blog very, very soon! I just want to use it some more to get a definite opinion.  So far, it's exceeded my expectations.
4. Acure Organics argan stem cell + chlorella growth factor brightening facial scrub ($9.99)
Oh, Acure.  How I love your products.  I was out of my go-to facial polish, so I picked up the Acure Face Polish at Target.  Yeah, Target now carries Acure Organics products and that makes me so happy! Not only does this make my skin super soft, but it smells like goodness out of the sea. Organic Sea Kelp helps exfoliate the skin, plus this also features French Green Clay and Organic Lemon Peel.  This will help remove all the impurities in your skin,  help stimulate new growth,  brighten and cleanse the skin.  Acure Organics has impressed me yet again!
5. Soap & Glory Righteous Butter Body Butter ($6.00 and up)
Sephora, I hate that you stopped carrying this product line because I just really started to love it.  That's what happens though.  I've heard rumors that this will be available at Walgreens possibly.  I can't confirm that yet, BUT I'll let you know asap!  This body butter from Soap & Gory is magnificent.  It smells like a woman, makes me feel like a woman and well, it's everything.  I love a body butter that isn't too greasy, but still leaves my skin feeling super soft and hydrated.  Glowing even.  The Righteous Body Butter leaves my skin feeling like soft, silken perfection.  I love it.  I only picked up the small tub of this at Sephora because I didn't know that they'd stop selling it.  So I'm really wishing I would have opted for the larger one because it's good.  I even think I could use this one during the summertime and still not feel greasy.  Again, the smell. It's amazing!
6. Bare Minerals Pop of Passion ($16.00)
A Lip-Oil Balm that gives you just the right amount of color and hydration?!? That's the Bare Minerals Pop of Passion.  I picked up two of the products during the Sephora VIB Sale and I want more.  In the summer, I like to have brighter colors available to wear because my "face" products that I'm using are more toned down.  I wear less makeup, but still want that pop of color somewhere.  I got the colors Candy Pop and Punch Pop. Both are such great colors for this time of year.  They make me feel like I'm wearing nothing, but give me a really good amount of color on my lips! Yeah, you better believe I'm ordering more of these! They also came out with several blush colors in this line of products.  I need to investigate those as well!
Affiliate Links included.  All products mentioned were purchased by Simply Stine.