I have a HUGE haul to show you guys.  I picked up some new skincare because I was running low on my Paula's Choice (which I love) and wanted to try something new that I have had my eye on.   I have used a couple of Kiehl's products before, but not that many. I have just read so many good reviews about them, so I thought I'd give them a try.  I thought it would be fun to show you guys what I got and to tell you a little bit about the company!
Image Source: Kiehl's
Kiehl's has been around since 1851.  They started out as a Homeopathic Pharmacy in New York City's East Village.  I love their packaging because it's very straight forward and easy to understand. It doesn't seem gimmicky at all.  Their products contain a lot of natural ingredients and are great for any skin type, even the most sensitive.  This is a premium skincare line, but comparing to some of the other companies, they didn't seem to be very expensive at all.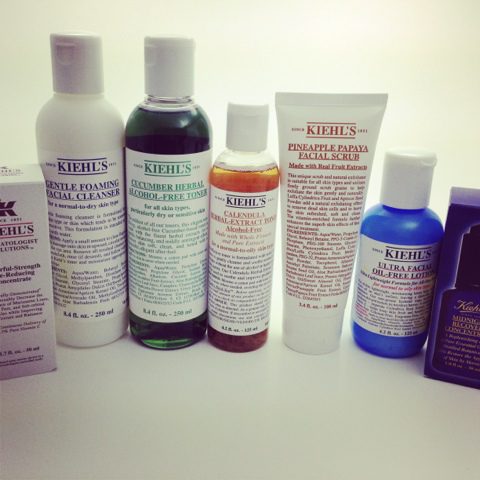 All of the products I got!
Yes, that toner is really that green! It works fantastic.
**The Calendula Toner was a sample I was given. I wanted to show how big of a sample the lady gave me!!
I picked up a complete routine for me to follow and I've been using it for about a week now.  So far, everything is working great and I can already tell a difference in my skin.  I was ready for a change.  It's summer time now and my skin has been getting oily again and I needed to change my routine completely.  The lady at Kiehl's assured me that if I had any issues I could bring back the products, but that they also had a guarantee that if you don't see results in 28 days, I could get my money back.  I love a company that stands behind their products.  
Image Source: Kiehl's
Here are some of the products I picked up:
$19.50 8.4 oz
Fragrance-Free and excellent for normal to dry/sensitve skin.  
**So far this hasn't irritated my skin at all and seems to work great! I was a little concerned because I am not normal/dry, but I am sensitive.  It removes my makeup great and I can use this with my Clairsonic morning and night. 
$28.00 3.4 oz
Natural exfoliant with actual papaya, pineapple and scrub grains work together to dissolve the dead skin cells and give a more radiant, smooth skin.  
**WOW!!! I tried this on my hand the day I bought this and it was an immediate difference.  I have used this once and my skin was so soft after I used it that I actually said "wow" out loud in the shower. My pores seemed smaller, skin was much softer and it wasn't a harsh scrub like some I've used. 
$26.00 4.2 oz
I had used the Ultra Facial Lotion (the regular version of this) before and it just didn't work with my oily skin, but this however is non-greasy and helps reduce surface oil.  It's fragrance-free, color-free, paraben-free and oil-free.  
**Excellent so far.  Not greasy at all and it has left my skin feeling great.  I feel like I don't need to use very much of this product!! A little bit really does go a long way. 
Starts at $58.00 for a 1.7 oz and goes up
Have lines you want to go away? This is a 10.5% Vitamin C.  This exfoliates and help promote a more radiant glow, helps reduce visible lines and provides anti-oxidant protection.  
**I didn't realize it until I brought this home, but I had been using a small sample of this from Birchbox.  I think I only used it a couple of times as a spot treatment on a spot I hate above my eyes.  The lady said that this is a customer favorite and suggested it for me since I was concerned about anti-aging.  Once applied, it warms on the skin, but that is totally normal.  I have had no issues with skin sensitivity at all. I will be following up to see what I think about this and what it's done for my lines I'm worried about.  
Starts at $46.00 for a 1.0 oz bottle and goes up
This is quite possibly the ONE product you think about when someone mentions Kiehl's products.  At least I do, because it's a product that everyone raves about.  It is said to regenerate, repair and replenish the skin and it is about 99.8% naturally-derived and paraben-free.  This product features Squalane (helps restore the skins moisture balance), Lavender Oil (helps irritated skin) and Evening Primrose Oil (helps give a more radiant glow)for a powerful dose of anti-aging.
**I can't get enough of this product.  It smells like Lavender and is the perfect product for me to apply right before I go to sleep.  I take about 2-3 drops into my hand take a breath of it and then gently press my fingers on my face to apply this product. Even though it's oil-based, it has been great on my combination skin.  I wake up with glowing skin that seems much softer and my pores seem smaller.  I use this after I apply the Powerful-Strength Line-Reducing Concentrate.  When I wake up, I can notice a difference in my skin.  
Starts at $11.00 for a 4.2 oz bottle and goes up
A very gentle toner that is ok for even the most sensitive skin types.  Provides a soothing, balanced, mild astringent effect. 
**I had a hard time deciding on a toner, but this is the one that the sales person suggested for my crazy, sometimes sens
itive skin.  I love this because it's alcohol-free and it seems to really help with any redness I'm experiencing on my skin.  It can be used daily and just applied with a cotton pad after you have cleansed the skin.  So far so good and I feel extra clean when I use this on my skin.  
Image Source: Kiehl's
I think it's impressive that I got a COMPLETE skincare line for under $200.00.  Yes, that's still a lot of money, but I have my whole routine and two extra products for anti-aging.  For a premium skincare line, that's great! The lady that helped me was so friendly (Dillard's at North Point Mall) and allowed me to experience each of the products.  She also sent me home with quite a few samples of some other products. Plus, since she knew I was going to be traveling a lot, she even gave me some hair care products to try.  Overall, I am SUPER impressed with this line.  It's at a fantastic price point for me and I love getting back into using more natural products.  I'll be following up to let you know how these products are working for me, so stay tuned!
For more information on Kiehl's visit this website:
http://en.wikipedia.org/wiki/Kiehl's
To visit the actual Kiehl's website, click here:
http://www.kiehls.com
Kiehl's products can be found at several department stores or online, on their website. To get a location near you, click here:
Store Locator