It's that time of year again! The VIB Sale at Sephora allows VIB's to get 20% off all purchases now through November 11th. It can also be used online and on sale items.   Remember all of those Sephora Favorites I posted about before? Now would be the time to make a purchase!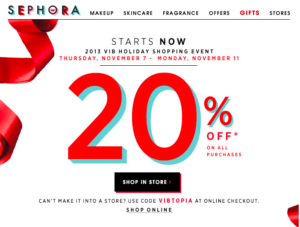 You MUST be a registered VIB with Sephora to use the discount, unless a VIB shares their code with you.  They are allowed to share with one friend and one friend only! So ask quickly!! For more information, please visit Sephora's website by clicking here.
Happy Shopping! I'll be updating you guy's with a haul post and video with what goodies I picked up! I'm hoping I am able to find what I'm looking for. I have heard talk that a lot of items are already sold out.  I'm hoping that is not the case….